Yogi Sushant
Hatha Teacher
About
I am Yogi Sushant. I have many years of experience in hatha Yoga and vinyasa flow. I have been teaching yoga from last 5 years to beginners and advance level students.
Recently Worked for :
Rishikesh Yoga Teacher Training Center (Rishikesh YTTC) - the perfect yoga schoo...
The 7 Chakras Yoga School is a Yoga Alliance Certified and offers 100 hour, 200 ...
Have any question?
Contact Yogi Sushant now
Your message will be sent to Yogi Sushant directly
Other popular Yoga Professional

Pranayama Instructor

RYT 200, Yoga Alliance, USA

Teaching Methodology Teacher

Visiting Professor: Anatomy & Physiology of Y ...

Anatomy and Physiology Teacher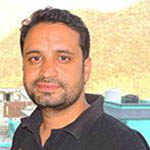 Yoga Teacher