Suman Thapliyal
Mantras and Rituals
About
I have spent my childhood learning and mastering the Vedic practices at Parmartha Niketan Ashram in Rishikesh. I come from the mountains and bears the hardworking and simplistic aura of its people. Quickly emerging as a revered yoga teacher in Rishikesh.
Recently Worked for :
Ekattva Yogshala brings you the advantage of advanced Yoga TTC practice, unique ...
Have any question?
Contact Suman Thapliyal now
Your message will be sent to Suman Thapliyal directly
Other popular Yoga Professional

Yoga Philosophy Teacher

(M.A Yoga) Hatha, Iyengar Yoga Teacher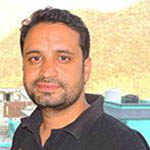 Yoga Teacher

E-RYT 500: RYT- Tattva Yoga School

Yoga Teacher

Asana, Pranayama and Yoga Nidra Teacher