Swati Sharma
RYT500, Yoga Alliance, U.S.A
About
She is 500hour certified from Yoga Alliance, U.S.A. And has also completed her B.A from Patanjali University. Currently, she is pursuing M.A from Uttarakhand Sanskrit University. She is serving as a Yoga Philosophy and Ashtanga Yoga Instructor in Rishikesh and Haridwar Centre.
Recently Worked for :
Om Yoga International in partnership with World Yoga Alliance, is a non-governme...
Have any question?
Contact Swati Sharma now
Your message will be sent to Swati Sharma directly
Other popular Yoga Professional

Asana Alignment Teacher (Hatha Yoga)

Co - Founder, Om Yoga International

Yoga Teacher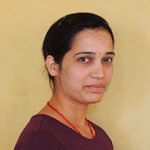 Yoga Teacher

E-RYT 500, Yoga Philosophy, Pranayama & Medit ...

(M.A Yoga) Hatha, Iyengar Yoga Teacher