Sunil Bisht
Hatha Yoga, Yoga Philosophy, Pranayama & Meditation, Ayurveda
About
I am born and raised in Rishikesh. Being inspired by the yoga culture of Rishikesh. I have started learning yoga in my early age. I have more than 15 Years of experience in teaching Hatha Yoga, Pranayama, Meditation, Mantras, Yoga Philosophy, and Ayurveda.
Recently Worked for :
Ekattva Yogshala brings you the advantage of advanced Yoga TTC practice, unique ...
Have any question?
Contact Sunil Bisht now
Your message will be sent to Sunil Bisht directly
Other popular Yoga Professional

B.A.M.S, YIC ( Yoga )

Expert Yoga Teacher

Professor, Gurukul Kangri University, Haridwa ...

Yoga Teacher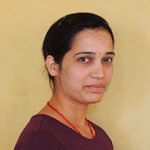 Yoga Teacher

Yoga Teacher