Yogi Sushant
Yoga Teacher
About
He is very polite and passionate teacher. He can teach either beginners or advanced students as well. He started doing yoga at the age of 12 years old. He is a master of Hatha and Vinyasa flow. Sushant Ji has experience of 4 years as a teacher.
Recently Worked for :
Have any question?
Contact Yogi Sushant now
Your message will be sent to Yogi Sushant directly
Other popular Yoga Professional

E-RYT 500: RYT- Tattva Yoga School

Hatha Yoga, Yoga Philosophy, Pranayama & Medi ...

Hatha Teacher

Mantra and Meditation Teacher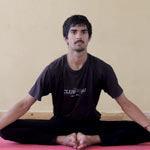 Yoga Teacher

Yoga Teacher - RYT 200 & 500 Yoga Alliance, U ...