Verified Profiles
In person verification of documents & identity by YogTravel.
Ankit Joshi
Founder at 7 Chakras Yoga School
About
Hi My Name is Ankit Joshi belongs to a traditional brahmin family lives in Rishikesh, Uttarakhand.
I am practicing yoga since my childhood. In my 5 years small yogi career i have trained and preached many students around the world. I am a certified yoga teacher and teach yoga philosophy and different yoga style.
You can join me at Seven Chakras Yoga School, Rishikesh!
God bless us!
OM!
Recently Worked for :
The 7 Chakras Yoga School is a Yoga Alliance Certified and offers 100 hour, 200 ...
Have any question?
Contact Ankit Joshi now
Your message will be sent to Ankit Joshi directly
Certificates & Experiences
Services offered by Ankit Joshi
Hatha Yoga
Vinyasha Yoga
Vikram Yoga
Drop in Yoga Classes
Riki Classes
In Person Yoga Classes
Other popular Yoga Professional

Asana, Pranayama and Yoga Nidra Teacher

Teaching Methodology Teacher

Yoga Teacher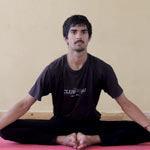 Yoga Teacher

Yoga Philosophy Teacher

Yogi Siddharth