Yogi Sanjeev Semwal
Hatha yoga, Astanga vinyasa & Certified Ayurvedic healer
About
I am Sanjeev Semwal and I have spent plenty of years knowing and practicing yoga. I am certified 500 Hour Yoga teacher and have more than 10 years of experience in the filed of yoga and yogic philosophy. My expertise is in Hatha, Vinyasha Flow and Asthanga Yoga. You can join me at RishikeshYTTC 200,300 and 500 hour Yoga TTC courses.
Recently Worked for :
Rishikesh Yoga Teacher Training Center (Rishikesh YTTC) - the perfect yoga schoo...
Have any question?
Contact Yogi Sanjeev Semwal now
Your message will be sent to Yogi Sanjeev Semwal directly
Other popular Yoga Professional

Yoga Therapy, Yogic Philosophy and Pranayama ...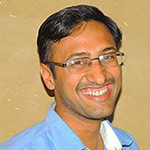 Yoga Teacher

Visiting Professor: Anatomy & Physiology of Y ...

Hatha & Ashtanga Yoga, Viniyasa Flow

Yoga Teacher

Pranayama Instructor