Yogi Ravi Bisht
(M.A Yoga) Hatha, Iyengar Yoga Teacher
About
I am a classical hatha yoga teacher with expertise in Iyengar style. I have more than 15 Years of experience in yoga and meditation. I have masters degree in Yoga from Uttarakhand University (Rishikesh). I have more than a decade experience in yoga teacher training.
Have any question?
Contact Yogi Ravi Bisht now
Your message will be sent to Yogi Ravi Bisht directly
Other popular Yoga Professional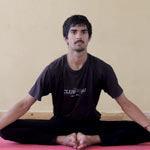 Yoga Teacher

Hatha yoga, Astanga vinyasa & Certified Ayurv ...

Pranayama Instructor

(M.A Yoga), Yoga & Alternative Therapy Teach ...

Yoga Teacher

Teaching Methodology Teacher