Dr. Sumit Sharma
Yoga Teacher
About
Dr. Sumit has learned yoga and is an expert in the fields of physical therapy, posture imbalance, and sedentary life disorders. He has a Master's degree in Physical therapy, with a focus on orthopaedic and a diploma in Sports Medicine as well as a trained Pilate's instructor from the Indian Academy of Fitness Training. He teaches yoga combining with Therapy and Human Physiology. Due to his teaching style, he is very popular amongst the students as he conveys in-depth and practical knowledge of Anatomy and PhysiologyI am Dr. Sumit. I hold expertise in the field of Physical Therapy , posture imbalance and sedentary life disorders. I am a certified Pilate's trainer from Indian Academy of Fitness Training Manglore. I've taught hundreds of students in more than 35 countries. Therapeutic aspects of yoga is where i excel. This includes the cure of postural imbalances or spinal disorders. Born and raised in Bali gave me the opportunity to understand Ayurveda. I have conducted different workshops on yoga functional anatomy, massage therapy, soft tissue release, myofasial release and pain relief techniques. Currently i am working as a head of department at Niraml Ashram Hospital Bali and Chief Physiotherapist at Shiva Cricket Academy Bali. I have also delt more than 500 cases of orthopedic disorders and Postural disoreders.
Have any question?
Contact Dr. Sumit Sharma now
Your message will be sent to Dr. Sumit Sharma directly
Other popular Yoga Professional

Yoga Teacher

(M.A Yoga), Yoga & Alternative Therapy Teach ...

Yoga Teacher Trainer

RYT 200, Yoga Alliance, USA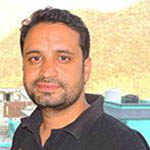 Yoga Teacher

Mantras and Rituals