Yogi Upendra Ji
Yoga Teacher Trainer
About
I was born and raised in a brahmin family in the holy city - Rishikesh. My father introduced me to yoga and ancient scriptures in my early childhood. I studied yoga at Bihar school of Yoga in Munger and completed my certificate course then, I started learning Vedanta at the Yoga Vedanta forest academy at Shivananda Ashram, Rishikesh.
I teach Hatha yoga, pranayama, yoga nidra and kriyas Yoga. A class with me always give feeling calm, centered and with a deep connection between mind, body and spirit. I have travelled China, Germany Denmark and Kazakhstan for conducting yoga workshops for my loving students.
Recently Worked for :
Tattvaa Yogashala is one of the oldest Astanga yoga school located in the yoga c...
Have any question?
Contact Yogi Upendra Ji now
Your message will be sent to Yogi Upendra Ji directly
Other popular Yoga Professional

Visiting Professor: Anatomy & Physiology of Y ...

Pranayama Instructor

Yoga Teacher - RYT 200 & 500 Yoga Alliance, U ...

Yoga Teacher Trainer

Yoga Teacher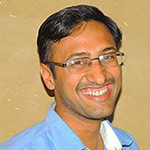 Yoga Teacher