Yogi Mohit
Yogic philosophy Teacher
About
I am Yogi Mohit practicing yoga from last 5 years. I am a certified yoga teacher teaching yoga philosophy in RishikeshYTTC. My teaching content are based on my vast research on different ancient yoga texts such as Patanjali yoga sutras, Bhagavad-Gita as well as other important Vedic texts that give students a clear vision to reach their destinations in life.
Recently Worked for :
Rishikesh Yoga Teacher Training Center (Rishikesh YTTC) - the perfect yoga schoo...
Have any question?
Contact Yogi Mohit now
Your message will be sent to Yogi Mohit directly
Other popular Yoga Professional

Yoga Teacher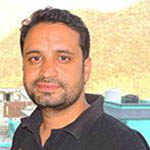 Yoga Teacher

Yoga Therapy, Yogic Philosophy and Pranayama ...

Anatomy and Physiology Teacher

Founder at 7 Chakras Yoga School

Yoga Philosophy Teacher