Swami Biswamvhar
Expert Yoga Teacher
About
I was born in Orissa a state located in eastern part of India. I serves as the elected president of Shiva Yoga Peeth. I am practicing Hatha and Ashtanga yoga since childhood and has learned from many yoga gurus. I have studied Gita, Ramayan, Bhagabad Gita, Upnisad, Vedas, Vedantas and Patanjali yoga sutras. My aim is to spread the knowledge of yoga all over the world.
Recently Worked for :
Have any question?
Contact Swami Biswamvhar now
Your message will be sent to Swami Biswamvhar directly
Other popular Yoga Professional

Pranayama Instructor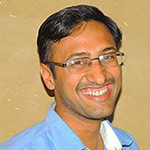 Yoga Teacher

Co - Founder, Om Yoga International

B.A.M.S, YIC ( Yoga )

(M.A Yoga), Yoga & Alternative Therapy Teach ...

Hatha Yoga, Yoga Philosophy, Pranayama & Medi ...