Chitrangana
Pranayama Instructor
About
Hello, myself Yogini Chitrangana. With the roots in the traditional hindu family i am practising Yoga since childhood. I have a unique training style and agility which makes learning more interesting and motivating.I have gained wisdom of yoga from renowned yoga practitioners from around the world. I hold the experience of more than 15 years in teaching in Pranayams and meditation.
Have any question?
Contact Chitrangana now
Your message will be sent to Chitrangana directly
Other popular Yoga Professional

Asana, Pranayama and Yoga Nidra Teacher

Hatha Yoga, Yoga Philosophy, Pranayama & Medi ...

Hatha Teacher

Yogic philosophy Teacher

Mantra and Meditation Teacher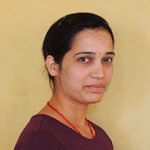 Yoga Teacher