Yogini Pinky
Pranayama Teacher
About
I am Yogini Pinky. I have been praticing yoga since very young age. I have a deep knowledge of mantra chanting and pranayama. I hold 2 years of experince as a professional Yoga teacher. I teach in a clear and precise way with a profound insight and explanation of yoga philosophy and asanas. My wisdom, confidence and pleasing persona as yoga teacher has earned me great respect and affection from students all over the world.
Recently Worked for :
Rishikesh Yoga Teacher Training Center (Rishikesh YTTC) - the perfect yoga schoo...
Buddha Yogpeeth Yoga School in Rishikesh, India offers an amazing opportunity to...
Have any question?
Contact Yogini Pinky now
Your message will be sent to Yogini Pinky directly
Other popular Yoga Professional

Viniyasa Flow Teacher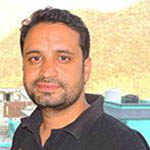 Yoga Teacher

Yoga Teacher Trainer

E-RYT 500, Yoga Philosophy, Pranayama & Medit ...

Yoga Anatomy and Physiology Teacher

Yoga Teacher