Suraj Negi
Viniyasa Flow Teacher
About
I am Suraj Negi, Viniyasa Flow teacher at Ekattva Yogshala Rishikesh. I am teaching yoga from last 3 years and i love my job. I am post graduate in Yoga from Uttarakhand Sanskrit University. You can join me at Ekattva Yogshala Rishikesh for Hatha, Viniyasa teacher training courses and Yoga retreats.
Recently Worked for :
Ekattva Yogshala brings you the advantage of advanced Yoga TTC practice, unique ...
Have any question?
Contact Suraj Negi now
Your message will be sent to Suraj Negi directly
Other popular Yoga Professional

Anatomy and Physiology

Yogic philosophy Teacher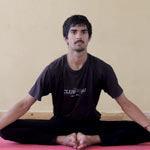 Yoga Teacher

Asana Alignment Teacher (Hatha Yoga)

(M.A Yoga) Hatha, Iyengar Yoga Teacher

Pranayama Instructor