Pankaj Paswan
Pranayama & Meditation
About
I am Pankaj Paswan a certified yoga teacher with a post graduate degree in Yoga and Naturopathy from Uttarakhand Open University. I am also been certified by International Institute of Yoga and Meditation, Ved Niketan Ashram in Rishikesh (India). Iam Currently teaching Pranayama, Yoga Therapy and Meditation.I love to spread happiness through my Teaching and Therapy practices.
OM!
Recently Worked for :
Ekattva Yogshala brings you the advantage of advanced Yoga TTC practice, unique ...
Have any question?
Contact Pankaj Paswan now
Your message will be sent to Pankaj Paswan directly
Other popular Yoga Professional

Professor, Gurukul Kangri University, Haridwa ...

Yoga Philosophy Teacher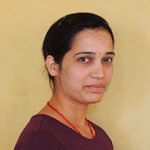 Yoga Teacher

Founder & President at Om Yoga International, ...

Yogic philosophy Teacher

Yoga Teacher Trainer