Anant Jethuri
Anatomy and Physiology Teacher
About
I am Anant Jethuri and teach Anatomy and Physiology in Rishikesh. I have attended university & studied Biology to deepen my knowledge of anatomy, physiology and diverse life forms. I have complete my 500 Hour yoga teacher training and became full time yoga teacher in Rishikesh.
Recently Worked for :
Ekattva Yogshala brings you the advantage of advanced Yoga TTC practice, unique ...
Have any question?
Contact Anant Jethuri now
Your message will be sent to Anant Jethuri directly
Other popular Yoga Professional

Experienced Yoga Teacher

E-RYT 500: RYT- Tattva Yoga School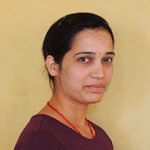 Yoga Teacher

Yoga Therapy, Yogic Philosophy and Pranayama ...

Visiting Professor: Anatomy & Physiology of Y ...

Yoga Teacher