Azad Bhatt
Asana Alignment Teacher (Hatha Yoga)
About
Hello, I am Azad. I was born in Uttarkashi , India , the spiritual capital of the World. I am a Yogi with 5 years of teaching experience. My spirituality journey was started in 2011.
Through my experience i have developed my unique style of teaching after realizing the benefits of transforming myself mentally, physically and spiritually.
I have studied Yoga at the famous International Vishwaguru School of Yoga Vendniketandham which is located in the Yoga Capital of the world Rishikesh. I began my teaching journey through the yoga retreats programs conducted by my Gurus and later I began teaching Yoga asanas, alignments and methodologies at teacher training programs across India.
Recently Worked for :
Arogya Yoga School is a RYS with Yoga Alliance USA and offers residential 100, H...
Have any question?
Contact Azad Bhatt now
Your message will be sent to Azad Bhatt directly
Other popular Yoga Professional

Yoga Teacher

Mantra and Meditation Teacher

Yogic philosophy Teacher

Yoga Philosophy Teacher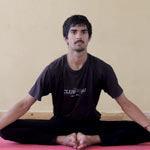 Yoga Teacher

Hatha Yoga, Yoga Philosophy, Pranayama & Medi ...