Rishikesh is among the holiest places for Hindus. Since ancient times thousands of sadhus and saints have traveled to this beautiful place to practice Yoga and Meditation. In 2020, there are plenty of ashrams available in Rishikesh to practice the ancient art and styles of yoga and meditation. Every year thousands of people visit this beautiful and heavenly place in search of salvation and peace.
If you are in Rishikesh seeking for inner peace and self-awareness, then you will definitely need an ashram or place to learn different styles of meditation techniques Here we have listed the best 11 places to do meditation in peace and beautiful surrounding.
1. Parmarth Niketan Ashram

Parmarth Niketan Ashram is a beautiful ashram where you can enjoy the peacefulness and mindfulness. This great ashram is situated at the banks of river Ganga at Swargashram, Rishikesh. It is the largest ashram in the town. The exquisite surroundings, clean rooms and ghat areas with the magnificent statue of Lord Shiva really make this place wonderful. You will love meditating in this Quite, calm and serene environment with clear sounds of birds chirping.
The ashram has several hundreds of rooms with all the basic amenities, I must say a well-managed ashram. Everyday activities in the ashram are morning prayers, the practice of yoga and meditation by certified teachers, Satsang & kirtan along with evening Ganga aarti. A must visit holy place for spiritual seekers.
2. Sivananda Ashram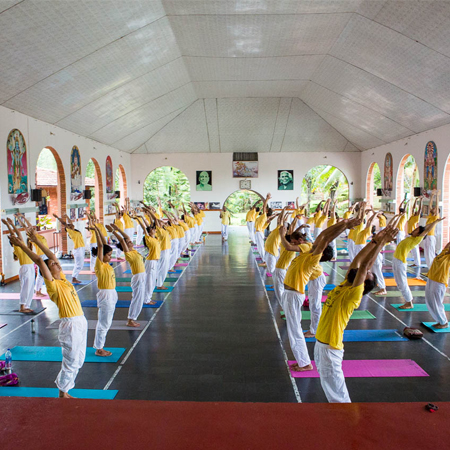 Swami Sivananda was a revered spiritual teacher and founder of the The Divine Life Society who believed that the best time to practice meditation is in the early morning between 4 - 6 a.m.(Brahma-Muhurta). The very aim of this Ashram is to enhance the lives of people, taking them towards peace and joy through yoga and meditation.
This ashram is a very good place for serious meditators, the atmosphere is calm and quiet, very vibrant and peaceful sacred ashram. One can heartily appreciate and understand the meaning and purpose of one's life here.
3. Sadhana Mandir Ashram
Swami Rama, a great Indian Yogi established Sadhana Mandir Ashram as an International Yoga Retreat center in Rishikesh around 1966 only with the purpose of elevating people's spiritual journey with the practice of meditation. If you are a beginner in meditation or an advanced meditator than this place is definitely for you.
Peaceful and calm place, staff and faculty are very kind and helpful. A pure magical place surrounded by beautiful gardens, delicious food, and wonderful teachings by trained and certified teachers.
4. Swami Dayananda Ashram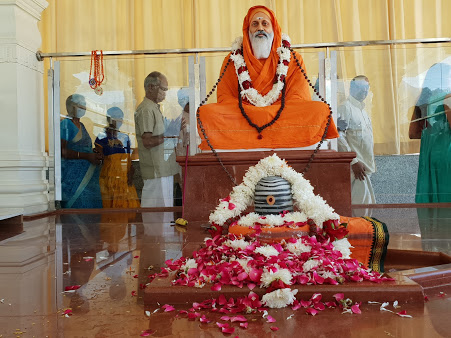 Another great place for yoga and meditation is Swami Dayananda Ashram. It is a Great spiritual place to stay in Rishikesh at Ganges river ghats. You can hear the sound of water flowing during meditation which will give you the natural environment and the presence of nature near you.
Swami Dayananda Saraswati established this ashram around 1960 to spread Vedanta and Sanskrit. It's a sprawling ashram at the holy banks of Ganga and a perfect place for meditation. The rooms are nice and clean, the food is great, affordable prices and very friendly and humble staff. A must visit place !
5. Phool Chatti Ashram

Phool Chatti Ashram is a wonderful traditional Ashram located on the banks of holy Ganga at Neelkanth Temple Road Paliyal Gaon, Rishikesh. Sri Devi Dayal Ji Maharaj established this ashram in the late 1800s to help people explore their true potential through yoga and meditation.
It is in a lovely location with beautiful landscapes, river Ganga flowing, food is incredible. Beginner and intermediate yoga and meditation program are available at affordable prices. Daily activities include practicing yoga, lectures, discussion, chanting mantras, learning meditation and nature walks.
6. Swami Rama Sadhaka Grama Dhyana Gurukulam
This ashram is devoted to the teachings of Swami Rama of the Himalayas. A very good place for meditation and contemplation, the environment is just perfect for meditation and yoga. A beautiful place to stay and relax, Courteous staff & knowledgeable teachers.
In 2001, a meditation institute was established within Sadhaka Grama with the aim to provide the traditional meditation techniques of Himalayan saints to the public. Simple sattvic meals are provided, a lovely place to deepen your spiritual practice and learn about the different facets of yoga - hatha yoga, breathing practice, meditation and more.
7. Anand Prakash
Anand Prakash is an Incredible ashram with phenomenal yoga and meditation classes. This place has a very knowledgeable instructor, good sattvic food, excellent staff, clean rooms with a quiet and serene environment. There are meditation and the ceremonies of fire puja every morning.
The daily activities of this ashram include 3 yoga classes, meditation, fire Puja, kirtan and sattvic meals. You can buy a 3-day yoga pass for RS 2100 (approx. $30) which will include the daily yoga classes, morning meditation class plus 3 sattvic meals a day. Overall value for money. Highly recommended.
8. Rishikesh Yoga Teacher Training Center (RishikeshYTTC)
Rishikesh Yoga Teacher Training Center, tucked in the peaceful Tapovan Valley is located at Nishant Garden, Laxman Jhoola, upper, Tapovan, Rishikesh. Apart from being one of the best places to learn and practice Yoga, this place also offers concentration, breathing and meditation programs for spiritual seekers.
They also offer multi-style 200 Hour Yoga Teacher Training in Rishikesh which is a month-long course. A great team of accomplished yogis is there to help you unite with your true inner self through the practice of Yoga and Meditation.
9. Shree Mahesh Heritage
Those who are seeking to better understand themselves and the science of meditation should definitely consider applying to this ashram. It's located at 153/4, Gayatri Resorts, Lane, Tapovan, Rishikesh. Shree Mahesh Heritage provides the best meditation program for beginners as well as advanced learners developing focusing skills in an enjoyable manner.
The place has nice accommodation, good wifi, enjoyable food and great teachers. Meditation programs include 100 Hour Meditation Training, 200 Hour Meditation Training and 300 Hour Meditation Training. From breathing techniques to postures and mantras everything is covered in these beautiful programs.
10. Osho Gangadham
Nice place for silence and to learn and practice Osho Dynamic Meditations. This place has a beautiful, peaceful, quiet and clean facility and High-quality pure meals. HIghly recommended for those looking for beautiful nature resort experience next to the Mother Ganga. It is full of lush green trees and scenic view
This place is among the very few places in Rishikesh to get inner peace and explore yourself in a meditative environment. There are various types of accommodation available to suit your needs. They also have a big Meditation Hall with a breathtaking view of River Ganges.
11. 7 Chakras Yoga School in Rishikesh
7 Chakras Yoga School is one of the best place for learning and practicing Meditation and Spirituality. The place is quiet, clean and comfortable. The teachers are wise, helpful and kind and the food is delicious. All the teachers and support staff are very helpful. Their programs cover a whole range of meditative techniques and intense Hatha, Ashtanga & Vinyasa flow.
I have personally taken classes there for Meditation and it was unexpected beyond Satisfaction. One of the best places to do 200 hour yoga & meditation combined teacher training course. Recommended for everyone!
How to reach
There are three ways you can Rishikesh by air, train and bus.
By Air you can first reach at Dehradun (Capital City of Uttarakhand) based Jollygrant Airport and then can book a cab for Rishikesh. Which probably costs around US$ 10 to 20 depending on availability. There are many national and international flights for this airport.
Via Train (Indian Railways)- Indian railways connect India from almost all regions and states and it is the 4th biggest railway network of the world followed by USA, Russia and China. For Rishikesh your last station would be Haridwar from there you have to travel approx. 21 KM for reaching Rishikesh.
Via Bus - There are many interstate bus services available for Rishikesh you can check buses availability through state govt bus services portals or any other private portals like Red Bus and if you are in Uttarakhand you can check UTC website to book bus tickets online