Check out the list of top cafes in Rishikesh, the yoga capital of the world, one of the hot-spot for tourists, yoga enthusiasts and spiritual seekers from all around the world. People visit this holy town every year to enjoy, relax and to seek adventures and unwind with yoga retreats & to join yoga teacher trainings in Rishikesh. The majestic River Ganga and the green natural mountains surrounding the areas are simply stunning.
If you are in Rishikesh or planning to travel this heavenly place, you will definitely need some good place to chill, relax and binge in. Here we have listed the 14 top cafes in Rishikesh for tourists to visit in 2020.
1. Little Buddha Cafe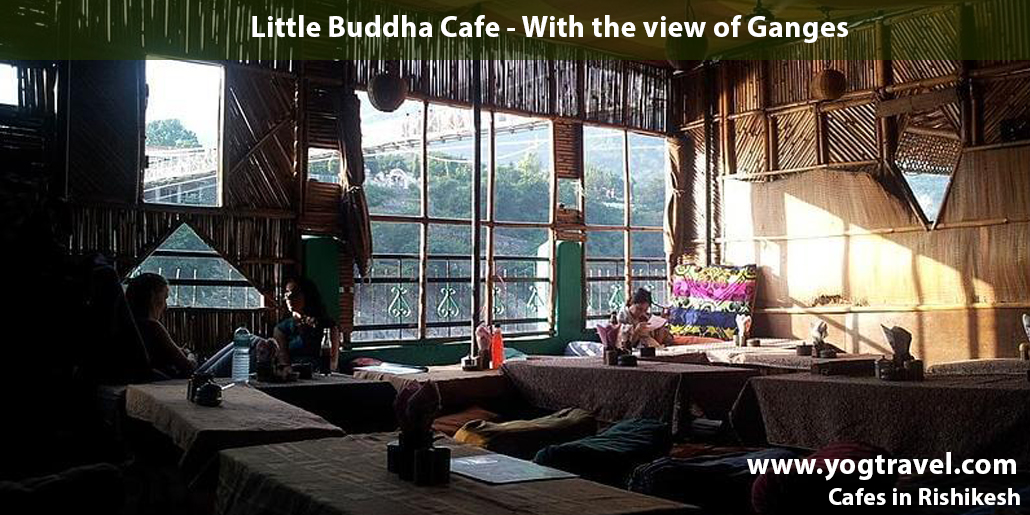 This place is one of the oldest cafes in Rishikesh and a great place to chill and relax if you are heading towards Rishikesh. This treehouse styled cafe provides a scenic view of river Ganga along with Laxman Jhula, plus fresh air to breathe while you eat. Outside seating is also available.
The environment is peaceful, quiet, cozy and full of natural views. The restaurant has a pure vegetarian menu. Gluten-free food options are also available. The menu includes Mexican, Italian, Himalayan food, North Indian food, Israeli dishes, healthy juices. Two of my best desserts to try out in this cafe is "Hello to the queen" and broccoli pancake (150 Rs).
The food is priced moderately. Alcohol is prohibited here, this place is full of foreigners and it can accommodate around 100 people at once. Good music to chill, friendly staff and the interior setting are quite different than other restaurants in Rishikesh. Overall one of the best places to eat.
2. Ramana's Garden Organic Cafe
This cafe is for those who are looking for most fresh organic food and Yogi breakfast full of natural vegetables, fruits and yogurt. Opened in 2006, Ramana's Garden Organic Cafe grow all the vegetables by themselves and is situated in Tapovan, Rishikesh. The view from the tables that overlooks the Ganges river and beautiful mountains. Endearing!
Menu includes both veg and non-veg dishes(only egg). The menu is full of organic vegetables, homemade soups,and fresh salads that are grown in the surrounding gardens of Rishikesh. The young chefs in here are very talented and make very tasty and health-conscious food for their customers. Some of their best dishes include Mexican Enchiladas, Cannelloni, savory Tibetan Momos, Vegetable Lasagna and Eggplant Moussaka
A wonderful place to visit and dine for a cause as this cafe is providing the children of 'Ramana's Garden Children's Home' an opportunity to work in their cafe so that they can fund their college education. Isn't it great ?
3. Cafe Karma
Cafe Karma located at Main Badrinath Highway, Tapovan, Rishikesh is a fast-food restaurant. This cafe has a very lovely and quiet atmosphere. The manager and the staff are very friendly and helpful. Good music to chill and enjoy the magnificent view while eating your food. This place is full of good vibes for sure.
The best part about Cafe Karma is their great fast-food. French fries, fresh sandwiches, honey ginger lemon tea, yummy cutlery, tast thukpa are their specialties. I have personally tried Indian cutlery, honey ginger lemon tea and french fries. Trust me and go ahead, you won't be disappointed. Everyone of you visiting this cafe must try out the popular Vegan "Banana Chocolate cake".
They also offer private balcony and rooms to stay, both in affordable price range.
4. Oasis Cafe And German Bakery
Located near the Laxman Jhula at Rishikesh, this cafe looks like a modest little hut and provides top-notch food and drinks. The place is very nice and cozy and has a great ambiance. The quality and taste of food is very good here, Excellent quality/price ratio.
Cafe specialties includes momos, noodles, honey ginger lemon drink, Croissant filled with chocolate, Sizzler, mono, pasta, Thai curry, falafel laffa, spaghetti, Burger and Chinese veg noodles. They also serve North Americana Breakfast which is simply delicious. They also serve beverages and drinks. Oasis Cafe And German Bakery serves Healthy food and provides excellent service
The prices are quite affordable, the cafe provides good Wi-Fi, and definitely the best place to get breakfast. The wonderful place must try different cuisine available.
5. Beatles Cafe Rishikesh
One of the most famous cafes with a beautiful view of Ganges and fantastic ambiance, Beatles Cafe serves the best food with a bonus of totally calm environment where you can simply relax and enjoy your healthy and appetizing food.
You will love your morning warm tea in here with the fresh and cold breeze flowing all day long. I personally visited the Beatles Cafe and by far I had the best vegetarian burger in this cafe. Coconut curry, French fries, Pasta and Pizza, masala chai, banana shake, Texas and American burger are a must-have. The staff is very friendly, this perfect cafe provides quick service to their customers, unlike other restaurants and cafes in Rishikesh where you have to wait at least 20-30 minutes to get served. Variety of Vegan and gluten-free dishes are also available with total value for money.
Good vibes, reasonable prices and peaceful view attract all kinds of tourists and the local population of Rishikesh in this beautiful cafe. A must visit the place. You will love spending your time in this cafe, especially the sunset view is amazing.
6. Divine Cafe & Bakery
This cafe is located at Divine Resorts, Badrinath Rd, Rishikesh. The beautiful and fresh environment along with fantastic food and a clean place, this elegant cafe with a great view attracts a lot of crowds on a regular basis. The staff is very courteous and the manager is very friendly. The atmosphere is quiet and comfortable.
If you are looking to try out some Indian breakfast, I will recommend you to try Chole Bhature, very delicious! Must try in this cafe are Classic Veg Pizza, Greek salad, Chocolate Brownie, fresh pineapple juice, chocolate balls, Blueberry Cheesecake, red velvet. They also serve continental food and great coffee. Prices are very reasonable along with good Wi-Fi and clean furniture.
7. The Ganga View Cafe
If you are looking for a nice and clean cafe to hangout and relax, this is your perfect destination. The view from this cafe is very attractive and stunning. Definitely one of the most pleasant cafes in Rishikesh, far from the noise of the traffic and roads.
THE GANGA VIEW CAFE serves very tasty food and amazing coffee all in an affordable price range. The quick-service by the staff is appreciated. Some of the popular food here are brownies, carrot bread, banana bread, dessert, sandwich, pancakes with fruits and fried rice, mozzarella sticks, spinach soup, banana cakes. and fried dumplings.
Very nice interior, good music makes this beautiful and peaceful cafe one of the best cafes in the town.
8. Pure Soul Cafe & Organic Kitchen
This wonderful cafe is located at opp. Balaknath Temple, Tapovan, Rishikesh. The cafe has an amazing natural view with cleanliness all around the cafe, quiet and chilled vibes and excellent service by the staff. You will find a handsome outdoor seating place in the cafe with attractive views.
I personally liked the vegetable lasagna, red sauce, perfectly cooked pasta and porridge for breakfast. The food is delicious, the chai is very good. A must try in this cafe are dessert, cappuccino, grilled cheese and corn sandwich, smoothies, juice, Veg Pizza, Pasta, Burgers, Coffee. and ginger beer.
The cafe has a special feeling to it. They serve the best organic and health-conscious food in Rishikesh. Worth visiting if you are traveling in Rishikesh or planning to travel.
9. Cafe Omkar
Cafe Omkar is situated at Swarg Ashram, Rishikesh. This cafe is a nice place to have food and beverages along with background music and super fast WiFi. The place has a good and nice ambiance. What I like the most about this cafe is that the staff is well trained and speaks in a polite manner to every customer and provides quick service for sure.
Cafe Omkar is a quality place to sit and eat. The chef's cook's most tasty food in this cafe, pander sizzler is one of the best dishes you must try.
10. ChatSang Cafe
Just at the beginning of Laxman Jhula road off the highway, this cafe provides the best brew coffee, Pizzas and beverages. The view from the cafe is very good, overall good vibes and a nice cafe to chill and relax. The environment is clean and fresh with healthy food and amazing music.
ChatSang Cafe is one of the best coffee spots in RIshikesh. A must try in this cafe is soya cappuccino, grandma khichdi, vegan cake, tomato basil soup, spinach,mushroom pasta, Brownies, espresso, red bean burger and lemon tea.
The place is crowded most of the time but the wait to get served your tasty food is worth it.
11. Free Spirit Cafe
Free Spirit Cafe is located at Haridwar Rishikesh Badrinath Road, Tapovan, Rishikesh. This is all vegetarian cafe and most chill place in RIshikesh. The view is so amazing that you can relax there tension free for hours without being bored.
The menu includes vegan papaya shake, veg laffa, pancakes, Chocolate Balls, soy milk coffee, pasta, scrambled eggs, masala omelet, shakshuka and much more.
This place provides the best Israeli food in the town. Fully clean, fresh and chilled environment of this place really makes this place one of the best in RIshikesh.
12. Hideout Cafe, Rishikesh
You can locate this beautiful place at Marine Drive, behind Durga Mata Mandir, Ganga Vihar Colony, Kolghatti, Rishikesh. Hideout Cafe is a rejuvenating and wonderful place with quiet and chilled ambience. The staff's attitude towards the customer is great and the manager is a very good host.
The view of the majestic Ganga River from this place is simply amazing. A good place for a quick bite, lunch and dinner. I have personally tried the coffee at this cafe and I loved it. Apart from coffee, you must try out pasta, hot chocolate, milk shakes and beverages.
Overall a beautiful Location with great food and service. Recommended for tourists
13. Cafe De Goa
This place is located at Sacha Dham Rd, Tapovan, Rishikesh. One of the best places I have ever had for breakfast in Rishikesh is none other than Cafe De Goa. The view of the green mountains, flowers and heavenly River Ganga from the cafe is really stunning. The view from the balcony is mind-boggling. You can view the temples of Rishikesh from their balcony especially for watching Aarti at Triyumbakeshwar temple.
A must try in this cafe are Pizza, pancake, Lazania, Italian pasta, eggplant masala, yogi tea, palak paneer, fresh mint tea, french fries and lime and mint cooler.
14. Mamma Mia Cafe - Upper Tapovan Rishikesh
Mamma Mia inn. is one of a unique kind of cafe in Rishikesh. It is very famous for Italian & Spanish cuisine. Chocolate mousse, Catalan coca, Italian Pizza etc. are the most popular here. There are many gluten-free options also available which is very hard to find in Rishikesh.