Satchidananda Saraswati - Biography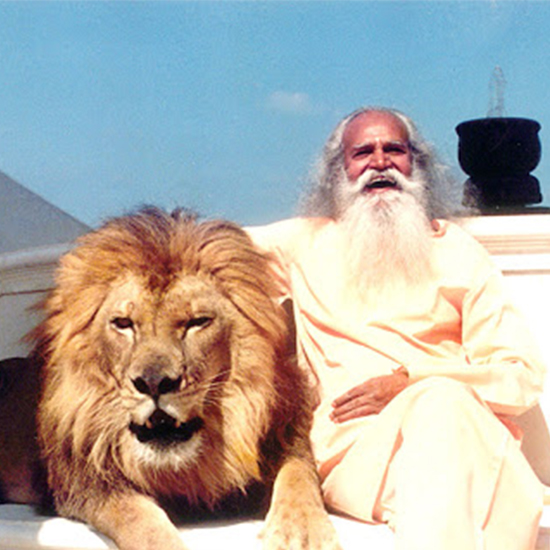 Satchidananda Saraswati was a Hindu spiritual guru, author and a great Indian Yoga master. He was born 'C. K. Ramaswamy Gounder' in a devout family in South India on 22 December 1914. Swamiji was a pure vegetarian throughout his life and even wrote a book 'The Healthy Vegetarian'.
Swami Satchidananda was a disciple of great Indian guru Sivananda Saraswati, the founder of Divine Life Society. By his guru's blessing, he spread the knowledge of attaining inner abiding peace to the west by founding Integral yoga International in 1966 which is now one of the well known Institute for certification in Yoga training.
Swamiji came to America in 1966 and through Integral Yoga International, he revealed the value of Yoga in such fields as healthcare, education, peacekeeping and the environment.
During his lifetime he wrote several books and gave numerous lectures. In 1986 he opened the Light of Truth Universal Shrine (LOTUS) at Yogaville, Virginia. He initiated one of the first Yoga programs in prisons and drug rehab centres and founded the first Yoga magazine in America.
Swami Satchidananda came to be known as 'The Woodstock Guru' in the West(1969)
Sri Swami Satchidananda was one a renowned spiritual giant who arrived in the west in 1966. The youth of America was in need and he gave them direction, a sense of hope and spirit of aspiration. The organization of Woodstock music arts and peace festival expected less than 50,000 people to turn up but when they saw almost half a million arriving they became worried. Michael Lang the main festival organizer called his friend and the artist, peter max and asked him who he thought should open the festival. Peter max answered without hesitation Swami Satchidananda.
The artist peter max as part of the 60's hippie culture and was responsible for bringing Swamiji to the West. Swami Satchidananda was teaching at his Yoga centre on the west side of Manhattan where he received a call from peter max to say he was needed in Bethel, New York and a car has been sent to pick him up.
Swami Satchidananda opening address speech at Woodstock witnessed by half a million Western youth accelerated the public awareness of Indian culture, traditions and values.
What is Satchidananda's Integral Yoga?
Integral Yoga was brought to the West by Sri Swami Satchidananda. It's a pathway to an easeful body, a peaceful mind, a useful life, balance and self-realization. Integral Yoga is a synthesis of six classical branches of Yoga: Hatha Yoga, Karma Yoga, Jnana Yoga, Bhakti Yoga, Japa Yoga and Raja Yoga. It's the path of postures, breathing techniques, meditation based on self-discipline and ethical principles and the path of love and devotion towards the divine.
Integral Yoga International offers classes, programs and training with 5000 + teachers. Integral Yoga is helping to shape the emerging fields of specialized yoga and yoga therapy. It is helping to share the emerging fields of specialized yoga and yoga therapy and generates a flourishing yoga culture accessible for everybody.
Be Easeful, Be Peaceful & be Youthful
Swami Satchidananda always taught his disciples and followers that "Your goal should be to 'Be Easeful': you disturb your ease by doing wrong things and you call yourself diseased.
'To be peaceful': if a person lives based on this I, me and my, he can never never be peaceful and then
'To Be Youthful': nothing will disturb you if your life is based on selflessness and you can always be peaceful and when you are peaceful you are a happy person."