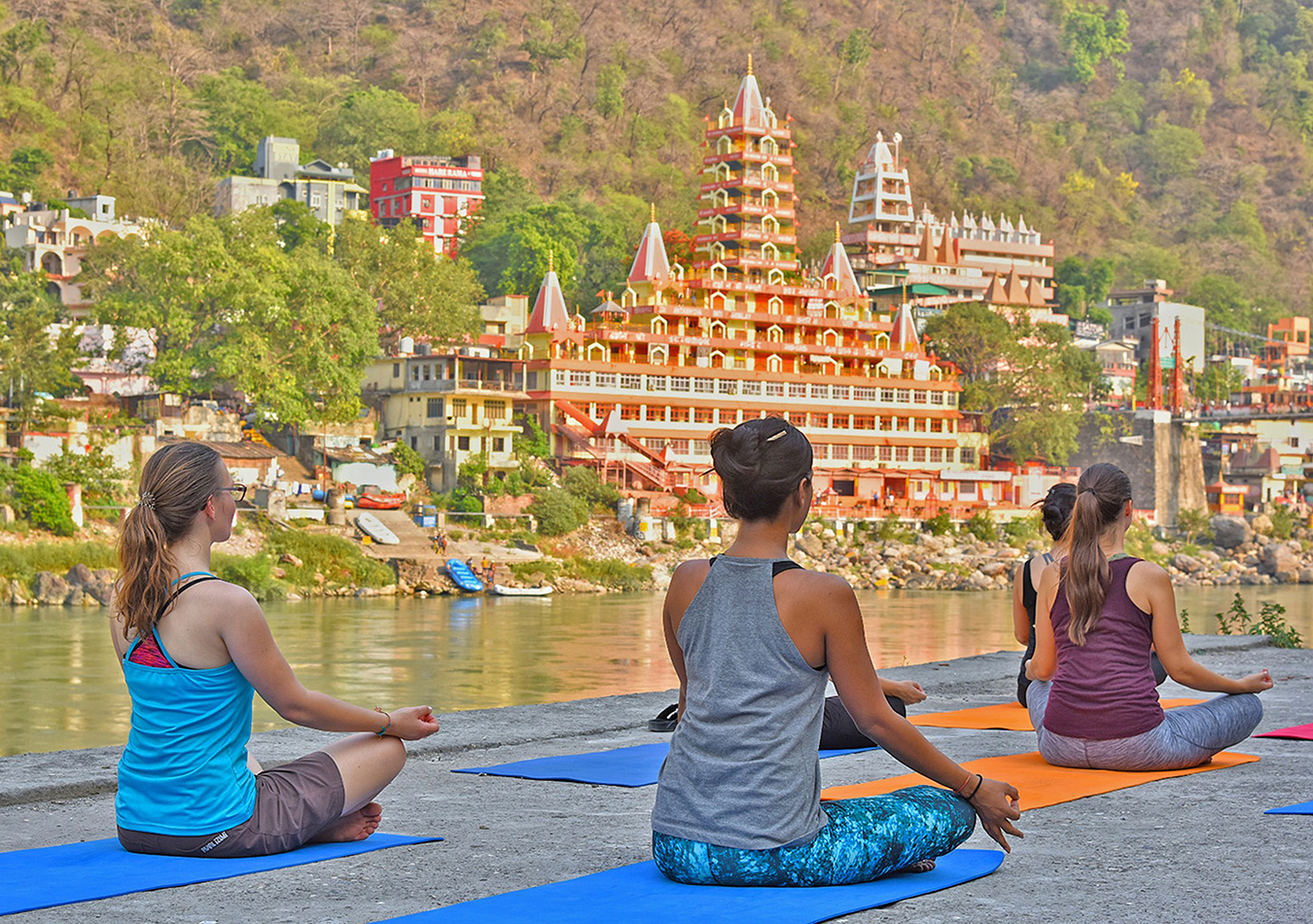 Rishikesh, India gives you a solid foundation if you are a yoga enthusiast or a beginner aspiring to be a Yoga Teacher. The location itself is probably one of the greatest aspects. You are surrounded by everybody practicing yoga and the entire city is the heart of hatha yoga for India so the roots of yoga are in this place.
Rishikesh is a place like no others, it is the yoga capital of the world, it is the city of Rishis and sears and the moment you land, the moment you encounter the culture, the place, colors, the smells, the vibe, the ancient sacredness that has been around for thousands of years, you can't help but stop and immerse yourself in the moment. Here we have researched and listed 12 reasons to do your Yoga Teacher Training course in Rishikesh, India.
1. Rishikesh is the Yoga capital of India
Rishikesh is popularly known as the Yoga capital of India. From thousands of years saints, gurus and rishis are visiting this holy place in the foothills of Himalayas, right beside fresh river Ganga to do yoga and meditation. Today, this place has plenty of internationally-renowned yoga studios, yoga retreat centers and yoga teacher training ashrams.
This place offers different styles of yoga like Hatha Yoga, Ashtanga Yoga, Yin Yoga, Kundalini Yoga and Karma Yoga, along with various programs. Every year hundreds of tourists visit this holy place to learn yoga as a lifestyle. Imagine learning Yoga from Indian gurus in the birthplace of yoga itself ?
This place is full of spiritual energy and perfect spot to be at total peace and practice yoga. If you are a spiritual seeker and want to dive deep into yoga, meditation and learn from the source itself then this is the holiest place for you. Where you can find many yoga schools providing yoga retreats and Yoga TTC
2. Most affordable place to learn yoga
You must be quite aware of the fact that yoga teacher training is quite expensive. By far Rishikesh is the cheapest place in the world to learn yoga. A 26 Days 200-Hour Yoga Teacher Training in Rishikesh can cost as low as $700 and 60 Days 500 Hours Yoga Teacher Training can cost around $1600 only. Food and accommodation are both covered in these programs. Apart from fair price you will be provided an excellent atmosphere for learning and weekly excursion
To experience the authenticity of yoga, Rishikesh is the perfect place for you. It is stunning with many yoga schools to choose from. If you are a beginner in yoga then you should start with 200 hour hatha yoga program and gain a basic knowledge of different yogic asanas and yoga philosophies from India's renowned yoga gurus and teachers.
3. Right beside the holy Ganga River
Rishikesh is situated in the foothills of the Himalayas with fresh river Ganges flowing right beside it. You will have an enlightening experience learning yoga in the morning right beside river Ganga with beautiful views of Himalayan mountains and ancient Indian temples.
Along with Ganga river, the peaceful and exquisite ambience of the place makes it one of the best places for doing yoga at any time of the season. From many years Rishikesh has been attracting many people from all over the world to come and learn yoga techniques.
4. Best yoga teachers in the world
If you are thinking to learn yoga, than the first thing you require is a best yoga teacher. Only a knowledgeable and passionate yoga guru can teach you core yoga asanas, kriyas and yoga philosophy. Here you will be encouraged by teachers to spread this knowledge beyond the mat to the world. They do their best everyday to make you feel at home.
I have personally attended and completed 200 hour Yoga teacher training in Rishikesh and had the most amazing team of teachers with a high level of knowledge. Loved being part of this family who took care of us, treating us like their own.
5. Experience the ashram life
You will most likely experience the ashram life if you are learning yoga and meditation in Rishikesh. An ashram life will be full of discipline and minimum distraction concentrating purely on the spiritual aspect of life. From waking up early in the morning, yoga classes to eating pure vegetarian meal and meditating, this place will be a proper place to soak yogic knowledge as much as possible with the least distraction.
Ashram life is a unique experience that each yoga enthusiast should experience once in a lifetime. It will take you away from the loop of your daily habits and routines, helping you rewire your mind in a positive way.
6. Surrounded by lush greenery and Himalayan mountains
Rishikesh has perfect natural setting for every yoga practitioner. This tranquil town is surrounded by great Himalayan mountains, lush greenery, beautiful flowers,ancient temples, wonderful landscape and holy Ganga river. You will gain the most out of your yoga training course in this compatible weather and nature.
It is also said that the healing effects of yoga works the best when the body is compatible with the weather and nature around you. You will have one of the most remarkable and deeply touching experiences learning yoga in this place.
7. Various yoga programs and yoga styles to choose from
In rishikesh you will get the flexibility to choose a yoga style and program that suits your needs. In this place all the yoga styles like Hatha Yoga, Iyengar Yoga, Vinyasa Yoga, Bikram Yoga, Ashtanga Yoga and Kundalini Yoga are taught by the yoga masters and gurus. Few of the beginners yoga programs available are Hatha 200 Hour Yoga Teacher Training, Ashtanga 200 Hour Yoga Teacher Training and 100 Hour Yoga Teacher Training in Rishikesh.
You have all the flexibility to choose from short term training to long term training programs ranging from 50 Hour yoga training to 500 Hour yoga training.
8. Rishikesh is the hub of yoga teacher training ashrams
Rishikesh is the place where you will find some of the best yoga teacher training schools and ashrams which will help you attain a certification in Yoga training. Well designed schedule will give you a strong routine. These schools are extremely generous in sharing their knowledge, very much authentic in their approaches, immensely grounded to their roots and they genuinely make you a part of their family. They have their courses outlined so well. The teachers are professional, experienced and dedicated.
Few of the best schools and ashrams are 200 Hour Yoga Teacher Training in Rishikesh, Nada Yoga School, 7 Chakras Yoga School, Rishikesh Yoga Teacher Training Center and Arogya Yoga School - 200 Hour Yoga Teacher Training in Rishikesh.
9. Living in the presence of Indian saints and sadhus
It's an enlightening experience to live and hangout with Indian saints and sadhus and listen to their divine experiences. These saints and sadhus can be your spiritual mentors and help you understand how to blend yoga with every aspect of your life. Learning yoga and becoming a yoga trainer in this place will be a memorable experience. All you will gain is pure knowledge from experienced people who are practicing yoga as a lifestyle from a very young age.
10. Reconnect with your inner-self
The spiritual vibe of Rishikesh will help you go deep into your yogic practices and daily routine. From thousands of years rishis and saints have traveled and lived in this exquisite place adding to the spiritual energy of rishikesh. You will feel a deep connection with the divine while your stay here.
Situated in the state of Uttarakhand, this place has long been a spiritual center of India. Every year serious yoga enthusiasts from America, Australia, China and Europe come to this place to learn yoga asanas, kriyas and be a certified Yoga teacher.
11. A place where you can practice yoga and travel popular locations
You have an exciting option to combine your Yoga teacher training with travelling here in rishikesh. Every year plenty of tourists visit this place to travel and explore the indian culture, ancient temples, river ganga and Himalayan mountains. Rishikesh is also the gateway to the Garhwal Himalayas.
Rishikesh is a place where you can travel and explore a lot of places. Few popular places you must explore are the Beatles Ashram, Neer Garh Waterfalls, Neelkanth Mahadev Temple, Triveni Ghat and 450 m long Laxman Jhula. The oldest ashram in India, Swarg Ashram is also situated in Rishikesh. Overall a fun and adventurous place to start your yoga trainer career.
12. You will experience personal growth
Yoga teacher Training in Rishikesh will help you in your personal growth as you will experience a totally different environment which will expand your comfort zone. Away from the technological distraction, you will explore yourself more deeply through yoga and you will know your strengths and weaknesses which will help you be a better version of yourself.
Personal growth can bring amazing shifts into your spiritual life like increase in mindfulness, better mind-body connection, develop patience and perseverance and improves concentration which will open the doors for incredible opportunities for you in the future.