Biography of Maharishi Mahesh Yogi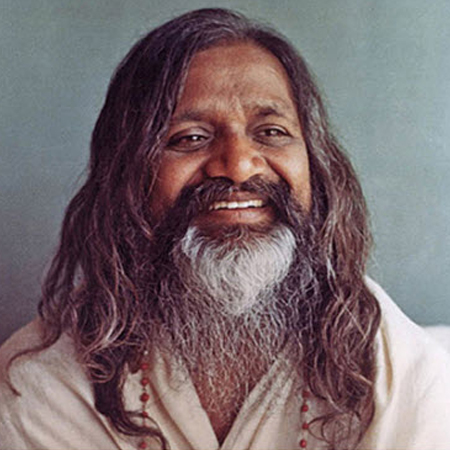 Maharishi Mahesh Yogi was one of the most Influential Yoga Gurus in India, a religious leader who spread the teachings of Transcendental Meditation to the world. He is the founder of the Transcendental Meditation movement which he started in the late 1950s
While in college, he decided to look for deeper meaning in life and became a disciple of Swami Brahmananda Saraswati (Guru Dev) who taught him yoga and meditation. After completing his college, his training continued as a student of Brahmananda until the guru died in 1953.
After the death of his Guru, Maharishi went into the Himalayas and meditated for about two years. When he returned he devoted himself to spread the teachings of his master to the world. Maharishi began his first teaching in the far east. In the spring of 1959, he crossed the ocean to bring the Transcendental Meditation technique to the world and help people in attaining higher consciousness.
According to his teaching, stress could be reduced by daily meditation. Maharishi has trained 40,000+ Transcendental Meditation teachers, five million people and founded hundreds of universities, schools and teaching centres along with charitable organizations.
Among the famous followers of Maharishi were the Beatles who traveled to Rishikesh, India in 1968 and stayed for a month at his ashram also know as Beatles Ashram Rishikesh. Reports say Beatles wrote some of their greatest hits there.
Early life of Maharishi Mahesh Yogi in Jabalpur
Maharishi Mahesh Yogi (12 January 1917 – 5 February 2008) was born in the small village of Chichli near Jabalpur, in the central region of India.
He studied physics at Allahabad University and earned a degree in 1942 and he also worked at a Gun Carriage Factory for some period of time.
After his college, he became a student of Swami Brahmananda Saraswati(Guru Dev) and took a new name, Bal Brahmachari Mahesh. From his guru, he learned the secret of swift and deep meditation.
Philosophy of Maharishi Mahesh yogi
We can understand the philosophy of Maharishi Mahesh Yogi through his three main life aims & teachings.
1. Reviving the spiritual tradition in India and spread though the world
2. To show that meditation was not just for monk or hermits but for everyone
3. To show that Vedas is compatible with science
Apart from these he was also introduced people to a new way of meditation which he named Transcendental Meditation that we have described below in article.
What is Transcendental Meditation?
Transcendental Meditation is a special type of meditation in which a practitioner mentally recites a mantra or a special Sanskrit word in order to achieve a state of higher consciousness and inner peacefulness. This TM technique of meditation is practised twice a day for at least 20 minutes.
TM is a technique for avoiding negative thoughts and promote a state of relaxed awareness.
Through concentrating on the repeated sacred mantras a practitioner aims at decreasing his mental noise and to gain a deep state of calmness and higher consciousness, which in turn enhances the creativity of mind.
Transcendental Meditation is one of the most prominent point of Philosophy of Maharishi Mahesh Yogi Ji.
Benefits of Maharishi Mahesh Yogi Transcendental Meditation
Regular meditation can reduce high blood pressure, stress, anxiety, chronic pain and cholesterol. It helps in improving sleep and provides a sense of clarity and productivity. It also boosts brain functions and memory.
Some of the evidence-based benefits of Transcendental Meditation
According to 43 peer-reviewed research studies, Transcendental Meditation promotes heart health and reduces cardiovascular risk.
According to 43 peer-reviewed research studies, Transcendental Meditation promotes heart health and reduces cardiovascular risk.
Helps in attaining deep inner calm which is highly effective for stress and anxiety
Transcendental Meditation movement
TM movement was started by Maharishi Mahesh Yogi in India in the 1950s. The movement refers to the programs and organizations connected with the Transcendental Meditation technique.
The organization had more than 900,000 participants in 1977; a million in the 1980s and by the early 21st century six million people worldwide had taken classes in the meditation technique.
Programs include an advanced meditation practice called the TM-Sidhi program and a health care program called Maharishi Ayurveda.
Books Written by Maharishi
Some of his best books are "Science of Being and Art of Living", "Celebrating Perfection in Education"," Transcendental Meditation" and Maharishi's Absolute Theory of Defense.