Jaggi Vasudev is an Indian yogi, mystic and visionary. Fondly known as Sadhguru, the founder of Isha Foundation, a non-profit organization that delivers Yoga programs for the elevation of the physical, mental, and spiritual well-being of people.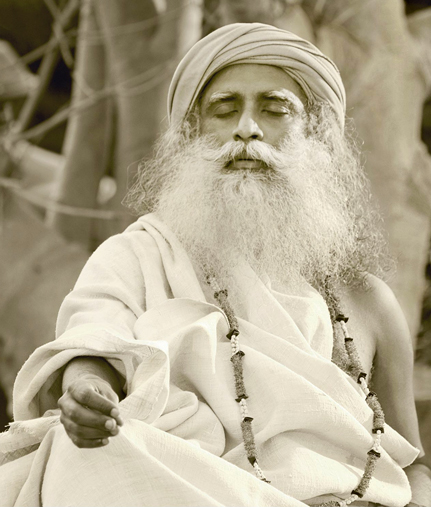 Through his transformational yoga programs, he transformed the lives of millions of souls and has been named in the list of "India's Top 50 Influential People".
Sadhguru is an internationally renowned and influential speaker and has given speeches internationally including Headquarters of the United Nations, World Economic Forum and at educational institutions, addressing issues such as socio-economic development, leadership and spirituality.
He had written books in various categories including religion, health, faith and spirituality. His book Inner Engineering: A Yogi's Guide to Joy had appeared in the New York Times Bestseller along with few other books in various categories.
Government of India in 2017 awarded Sadhguru with Padma Vibhushan civilian award for his contribution in spirituality.
Sadhguru has lakhs of devotees all around the world. Most educational institutions such as Harvard, Oxford, Yale and Standard regularly invites Sadhguru to speak on yoga, spirituality and various global issues.
Childhood Of Jaggi Vasudev
Jaggi Vasudev was born on 3 September 1957 in Mysore, Karnataka, India. He used to live with his father Dr Vasudev who was an ophthalmologist in the Indian Railways and her mother Susheela Vasudev.
When Sadhguru was 12, he met a yogi by the name of Malladihalli Sri Raghavendra Swamiji who taught him a series of simple yoga asanas. He became super interested in yoga, every day he used to go to the Swamiji to learn and practice the asanas.
Sadhguru states that "without a single day's break, this simple yoga that was taught to me kept happening and led to a much deeper experience later."
Isha Foundation
The word Isha means "the formless divine". In 1993, Sadhguru established Isha Foundation and Yoga Center that works with International bodies of Economic and Social Council of the United Nation. It is a sacred space for self-transformation.
Isha Foundation is a nonreligious, non-profit organization entirely handled by volunteers. It has a series of programs to heighten self-awareness through Yoga.
The Isha Yoga Center situated at Velliangiri, west of Coimbatore city in Tamil Nadu, is the headquarters for Isha Foundation.
Sadhguru has stated that "Its unique energy, structure, and location make the Isha Yoga Center a tremendously powerful space for self-transformation.
Isha Yoga's Flagship Program: Inner Engineering
Inner Engineering is an opportunity to bring inner transformation that will lead to a dimensional shift in your life, your work and the world around you. You can explore the higher dimensions of life through this yoga program.
Inner Engineering is derived from the ancient science of yoga. This programe introduces people to Meditation, Shambhavi Mahamudra Kriya, 21-minute yoga practice of immeasurable transformative power and antiquity, chit shakti, isha kriya and Pranayam.
It is offered as an intensive program for personal growth and establishes the possibility of exploring the higher dimensions of life, in addition to optimizing health and success.
By making you understand your inner nature, this program empowers you to face real challenges of modern life with ease and allow you to explore your full potential.
Benefits of Inner Engineering
This program provides high energy and alertness throughout the day and improves communication and interpersonal relationships. By practising the kriya's regularly it enhances mental clarity, provides productivity and eliminates stress, fear and anxiety.
It helps in the treatment of chronic ailments such as allergies, insomnia, hypertension, obesity, diabetes and back pain.
You can achieve inner peace, joy and fulfillment through this yoga program.
Sadhguru Controversies
Jaggi Vasudev has a huge fan following not only in India but all over the world and therefore he has been a centre for many controversies. One of them is the passing away of his wife Vijaya Kumari in 1996. Her father had alleged that she was murdered but Jaggi Vasudev but sadhguru said that her wife had attained mahasamadhi and claimed that he had told about this to her wife nine months prior to the incident. Although the body was cremated and according to the beliefs the body of the person who had attained mahasamadhi should be buried and not cremated. A probe was launched but the police could not find enough evidence and the case was closed.