300 Hour Yoga Teacher Training In Rishikesh (Yoga TTC Certification)
Overview - 300 Hour Yoga Teacher Training In Rishikesh (Yoga TTC Certification)
This 300 hour Yoga teaching in its most authentic and transformative form as taught in traditional ashrams and yoga traditions in India. This 300 Hour Yoga Teacher Training course has an in-depth concentration on the topics of Kashmir Shaivism; one of the most revered Tantrik traditions in India, Kundalini as taught in traditional Hatha yoga texts such as Hatha Yoga Pradipika, Samadhi Pada of Patanjali Yoga Sutra and traditional principles and teachings of Yoga Psychology.
Have any question?
No money will be charged, feel free to enquire.
Images Gallery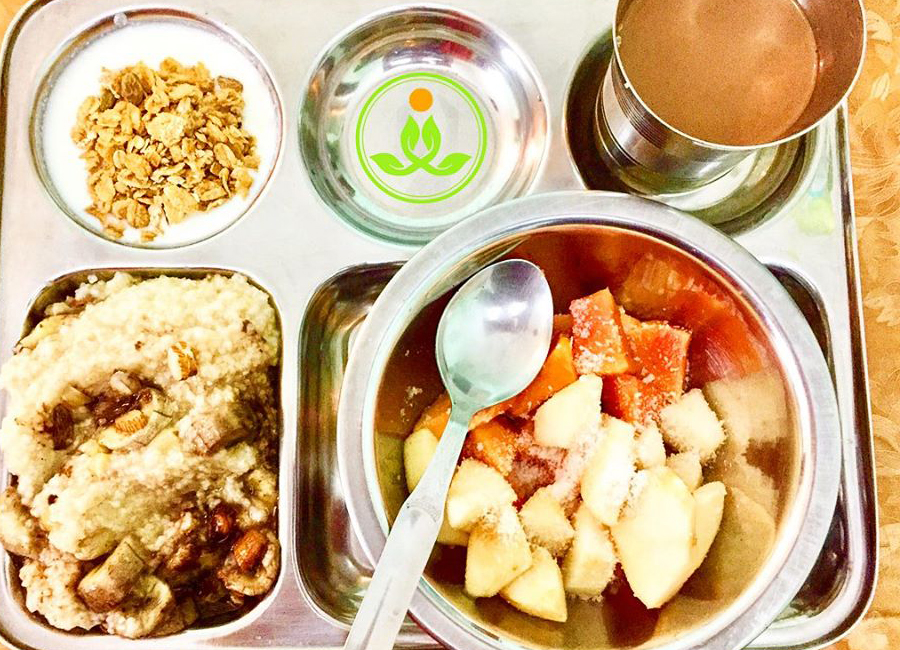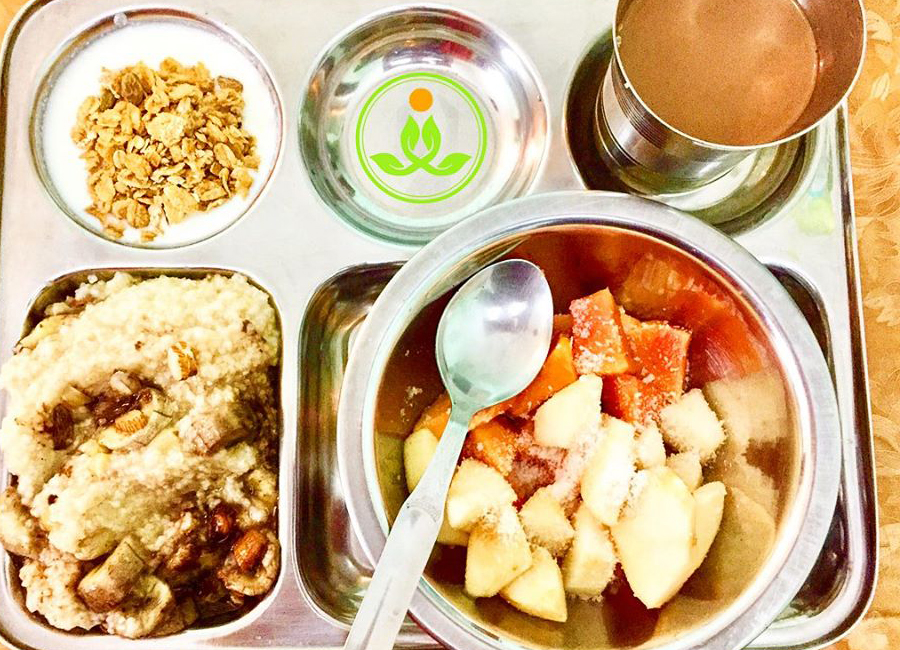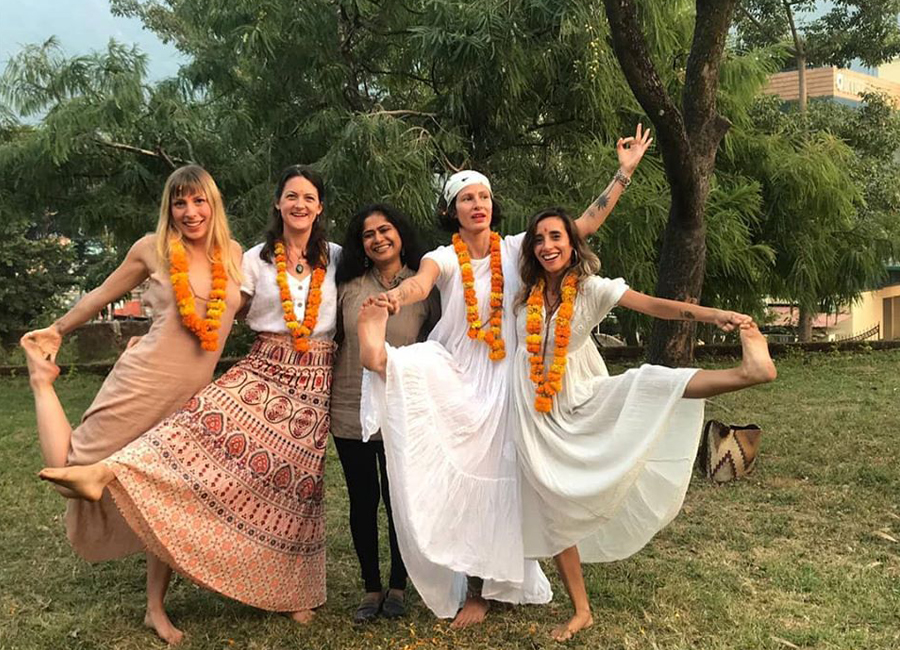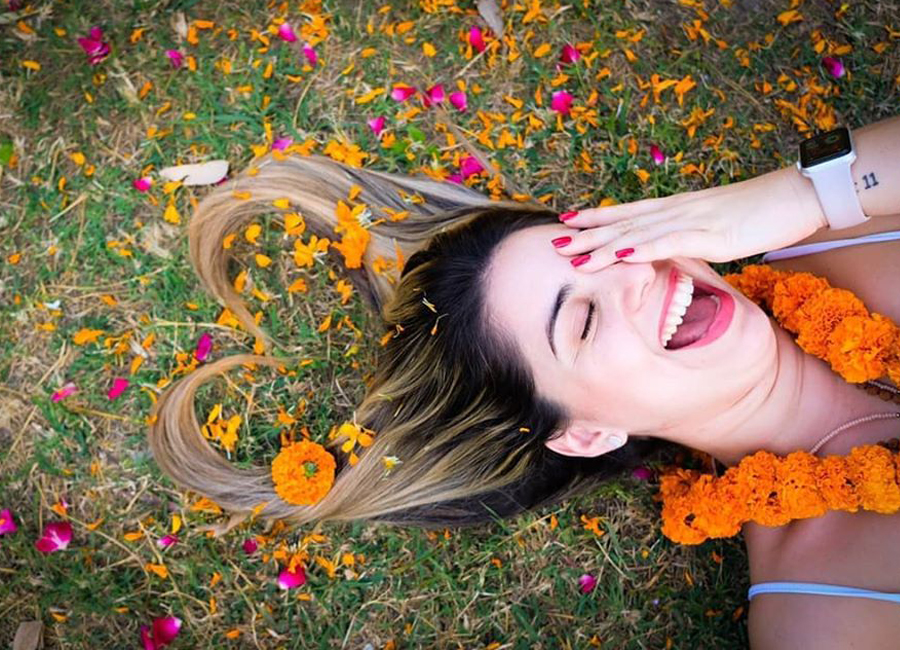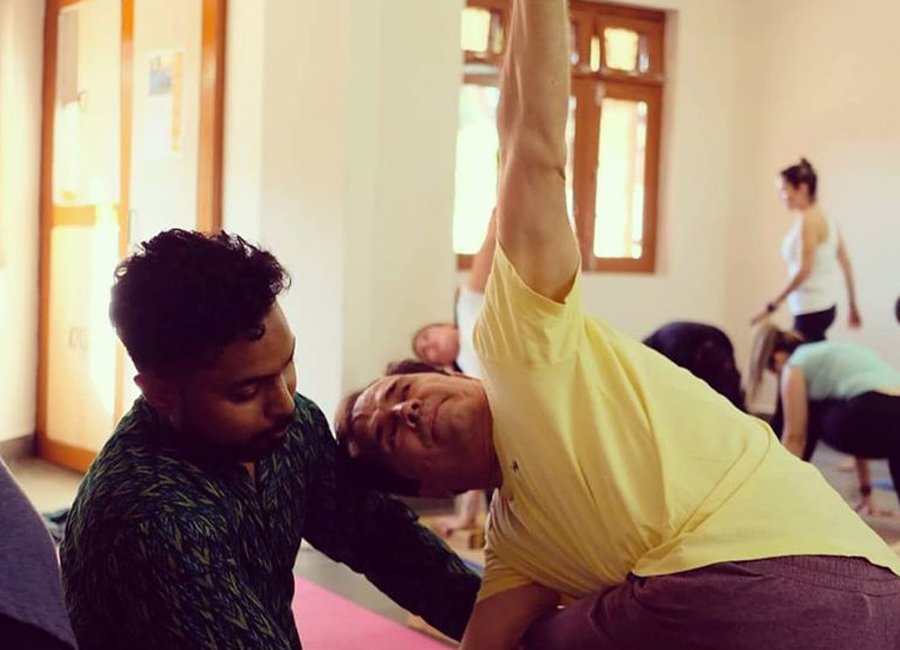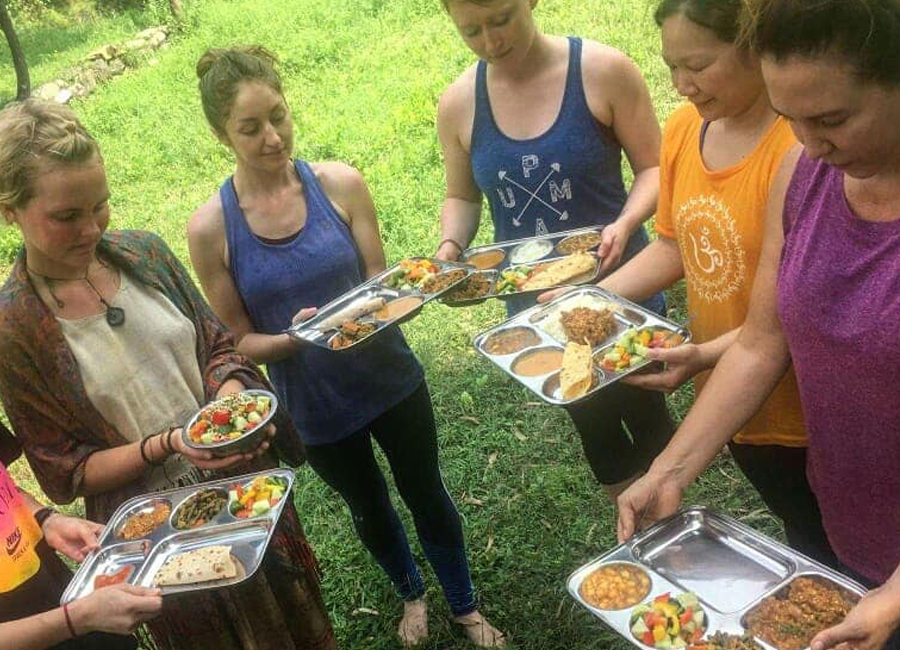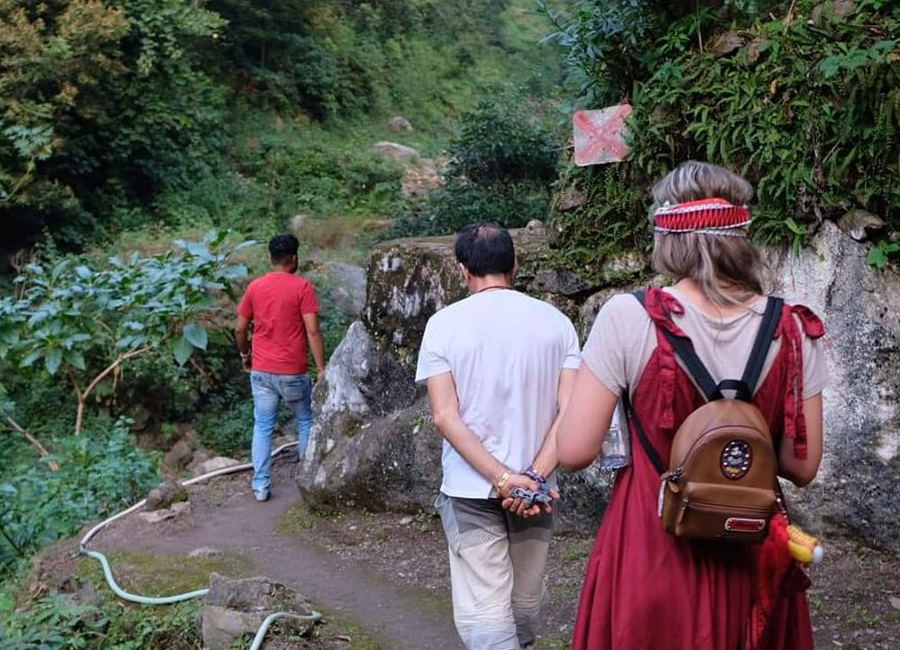 Program
Become a Yoga Alliance certified yoga practitioner and teacher.
Get enriched with the contents of intensive modules of class teachings based on Yoga Alliance recommended curriculum.
Equip yourself with the skills of practical Hatha Yoga class teaching and most traditional meditation techniques taught by a highly experienced team of teachers.
Become proficient in teaching meditation techniques such as Yoga Nidra, Ajapa Japa, Antar Mouna, Chakra Shuddhi, Chidakasha Dharana, Trataka and many more.
Experience a complete balance restoration and upheaval of the mind, body, soul.
Continuous post-course teaching related assistance from our team of esteemed teachers.
Getting equipped with ageless authentic scripture based practical as well as philosophical teachings from internationally renowned teachers in Rishikesh.
Food & Accommodation
The ashram provides neat and clean rooms with attached washrooms. The rooms have proper ventilation and 24- hour power backup facilities. The ashram itself is located in a peaceful location away from the city which makes it a perfect location to practice yoga and meditation in peace.
Breakfast
Yoga school provide nourishing and balanced breakfast every day. Breakfast prepared in our kitchen is nutritious, tasty, balanced and prepared from fresh nuts, vegetables, fruits and grains. During your stay with us, you would have an opportunity to taste traditional Indian breakfast, such as different kinds of porridges, Idli (savoury cake), Poha (made from beaten rice), Upma (wheat rava (semolina) or coarse rice flour dish), Sprout salads, and many more. In case you are on vegan diet, we can prepare breakfast separately for you upon request.
Lunch

Food served at lunch is pure vegetarian, sattvik, vitalizing, wholesome and nutritious. The food prepared in our kitchen includes most vegetables, ghee (clarified butter), fruits, legumes, and whole grains. These are ingredients that enhance clarity and lightness, keeping the body light and nourished and the mind clear. Time to time during the course we change the nature of the food according to the yoga practices you perform.
Syllabus
Paper-1 PRACTICAL HATHA YOGA SESSION
Topics
This session incorporates practical training on traditional Hatha Yoga with a focus on asanas. In this session, students will learn the techniques of various classical asanas chosen from Hatha Yoga Pradipika and Gherand Samhita.
Vinyasa style of practicing asana in the class.
Students of the course will learn the technique of practicing asana with physical as well as chakra awareness in the class.
Students will be learning asanas from various groups such as- 1. Pawanmuktasana series as taught in Bihar school of Yoga, 2. Vajrasana group of asana, 3. Standing asana, 4. Backward bending asana, 5. Forward bending asana, 6. Twisting series of asana, 7. Inverted series of asana, 8. Balancing series of asana 9. Surya and Chandra Namaskar with Mantra and Chakra awareness, 10. Vinyasa Flow style of the practice session.
There are 20 Hours given for non-contact hours. During these times students will be practicing their personal sadhana and will also be journaling and noting down their personal experiences of asana on the physical, mental and pranic levels. In terms of both personal practice and ability in this course, students will attempt each asana as sadhana practice which will be focusing on perfecting each asana while staying longer in the pose.
In this training, students will deepen their understanding of each asana taught with their focused awareness on not just the physical body but also on targeted chakras with an awareness of breath and prana.
Introducing the concept of Kriya
Pranayama, Mudra, Bandha and Shatkriya SessionTopicsPranayama SessionThis session on Traditional techniques of Pranayama, Mudra, Bandha and Shatkriya sessions will constitute learning sessions on various pranayama techniques chosen from-
Activating e.g. Bhastrika, Kapalbhati, Swan Pranayama, Agnisara kriya
Cooling e.g. Sheetali, Sheetkari
Balancing e.g. Nadi Shodhana with different ratio of Puraka, Rechaka and Kumbhaka and
Tranquilizing category e.g. Bhramari, Ujjayi. Students will also learn to practice advanced pranayama in conjunction with energy locks (bandha) and mudras.
Mudra Session
In the mudra section, we will be teaching practical techniques of Yoga Mudras chosen from five major categories-
Hand Mudra e.g. Chin Mudra, Gyana Mudra, Hridaya Mudra, Yoni Mudra, Bhairava Mudra
Head Mudra e.g. Shambhavi, Nasikagra Drishti or Aghochari mudra, Bhoochari Mudra, Khechari mudra, Akashi Mudra
Postural Mudra e.g. Vipreet Karani Mudra, Prana Mudra, Yoga Mudra
Bandha Mudra (Lock Mudra) e.g Maha Mudra
Adhara Mudra (Perineal Mudra) e.g. Ashwini mudra, Vazroli, and Sahjoli mudra
In the Bandha practice, they will learn and practice the techniques of 4 bandhas-
Jalandhar Bandha
Uddiyana Bandha
Mula Bandha
Maha Bandhas
These bandhas will be taught in conjunction with pranayama techniques.
Shatkriya
Every weekend will be dedicated for learning and practicing the techniques of different Shatkriyas such as Jal Neti, Neti with Catheter, Kunjal, Laghu Shankhaprakshalana (Intestinal wash) along with Nauli, Kapalbhati, and Trataka.
Practical Meditation Session
In this practical meditation session, students will learn the techniques of practicing different meditation techniques sourced from Tantras and Upanishads.
The different meditation techniques taught during the course are
Yoga Nidra
Prana Nidra
Ajapa Japa Dharana in Spiral Psychic Passage
Chakra Shuddhi
Ajna Chakra Dharana
Tattva Dharana on symbols and expressions of Tattvas
Tattva Shuddhi
Trataka on candle and Yantras.
Paper-2 FOUNDATIONS OF YOGA PHILOSOPHY
In the session, there will be the following topics-
Trika theory of Kashmir Shaivism
Samadhi and Sadhana Pada in Patanjali Yoga Sutras
Kundalini perspective in Hatha Yoga Pradipika
Yoga Psychology- Concept of Mind and Consciousness in Yoga Philosophy, Chitta Bhumi- Five planes of Mind, Mind management as per Gita
Paper-3 ANATOMY AND PHYSIOLOGY
The session will cover study on anatomy and physiology of various Human systems and organs in relation to yogic practices. The topics taught in the session goes beyond our 200-hour Yoga Teacher Training and will entail conversation on topics such as injury prevention in yoga class, the role of kundalini kriyas, advance pranayama with bandha and mudras on yogic physiology as well as physical organs, glands, and systems. In these sessions effects of each asana on various muscles, joints and organs will be discussed, the influence of key meditation techniques on the autonomic nervous system, as taught during the course. These talks will also entail the prevention of injuries in Yoga class considering the effects of asanas on different organs and musculoskeletal systems. Similarly, teachings will be imparted on topics such as Pranayama, Bandhas, Mudras and kundalini kriyas involving the above aspects of traditional Hatha Yoga and their effects on various nerve plexus and chakra system. Study of Mudras will also entail their influence on brain centers leading to meditative awareness and influencing the Yogic physiology such as there will be teachings on different mudras and their influence on different tattvas and prana vayus. Conversation on Meditation will entail sessions on the role of meditation in altering the states of awareness and consciousness and its effects on the nervous system and brain waves with supported studies. There will be dedicated sessions on Effects of various pranayama techniques on the autonomic nervous system and psycho-physical states in an individual, and also effects of various shatkriyas on human organs and systems, precautions and influence on pranic systems.
In non-contact hours students will be given a task to prepare the chart on the influence of 10 key asanas chosen from different groups such as
COBRA POSE
WARRIOR-A
TRIANGLE POSE
TWISTING TRIANGLE
HEAD TO THE KNEE
BACK STRETCHING POSE
SHOULDER STAND
PLOUGH POSE
SPIRALED HEAD TO KNEE POSE
HALF MOON POSE on the various key muscles in the body with the key precautions, contraindications, and benefits of these asanas. All these topics taught here will be beyond our 200-hour Yoga Teacher Training and are more advanced in nature.
Paper-4 TEACHING METHODOLOGY
Sessions of Teaching methodology will entail discussions on topics such as lesson planning for specific groups such as-
Injury Management and Master Class on Iyengar Alignment sessions by highly qualified and direct disciple of BKS Iyengar:
Yoga for seniors and back management in yoga class
How to conduct classes in a safe environment, how to create a safe and trusting environment in the classes
Professional and yogic ethics for yoga teachers.
Trauma Sensitive Class
Curing the issue of Flat Feet
Session on Ankle Joint Adjustment to prevent foot injuries
Management of Knee Ligament injuries
Lumbar corrections through principles and methods of alignment
Management of Cervical Alignment
Learning Objectives:
These sessions will enable the participants to incorporate all the different principles of a safe yoga class.
Yoga Classes for a specific group such as Trauma-sensitive class will help participants learn how to create a very safe, sensitive and empowering class for people with traumatic past. Programs include practical techniques and relevant philosophical principles which resonate with their life processes and restructuring the cognitive perspective or vision of life.
Yoga for seniors will allow participants get familiar with the issues and problems of seniors, their physical, mental and emotional needs and ways to present and teach yoga classes in a very safe manner and how to make the program accessible to them without causing injuries.
Yoga for back management will help participants learn and know about various back related issues, their nature, precautions and how to avoid back injuries in yoga classes.
Under professional and yogic ethics participants will be knowing the importance of personal sadhana, the practice of Yama and Niyama in yoga teaching, knowing how to limit oneself within one's own teaching boundaries without intervening other areas of specialty, learning how to create a trusting and safe yogic environment for the participants.
Paper-5 PRACTICUM
This session will focus on facilitating the practical sessions of yoga teaching under the supervisions of the yoga teachers. During the sessions, students will be prepared to conduct workshops on different themes and for different yoga groups. Each student will be given 1.5 hours to conduct the class incorporating and brief theoretical outline on an assigned theme or group as well as guided teaching. Practicing teaching in these sessions will be under the supervision and each participant will be assigned a topic to prepare a workshop on. They will give and a brief overview of the session which they are teaching followed by practical techniques used and then they will lead the whole class. Rest of the participants will participate as students. The teaching of participants will also be assessed by the lead practitioner on the basis of the rationale of choosing the program for a specific group, precautions stated and quality of presentation. These students are those who have done 200 Hour teacher training, therefore they are supposed to know basic teaching skill and here they will find the opportunity to apply their knowledge by conducting classes for specific groups. All of these classes are well supplemented by both theoretical and practical teaching by the students under the supervision of observers (lead instructors) in the class. The nature of these sessions in the course will provide students ample opportunities to practice teaching with specific groups under supervision which is not part of our 200-hour Yoga Teacher Training and will help students to develop more confidence, understanding while conducting classes for specific groups. These sessions will help to apply the knowledge acquired in the various session of theory in their practical teaching.

Learning Objectives
Through active demonstration, supervised practical teachings of asana, pranayama, and meditation; participants will harness the skills of yoga teaching in a classroom environment. Students will be conducting workshops on selected themes of yoga such as stress management, prenatal yoga, yoga for kids and Trauma-sensitive yoga class. There will be at least 5 contact hours dedicated to each trainee to practice as lead trainer in the class.
Daily Schedule
A typical day in our 300 hour Teacher Training Course comprises of various elements - practical sessions and theory workshops every day. Every day, you will get opportunity to immerse yourself in three practice sessions and three theory workshops. Each of these sessions will equip you with the knowledge and understanding of various facets of yogic wisdom.
06:30-06:45 - Green Tea
06:45-07:00 - Silence Meditation
07:00-08:30 - Experiential Hatha Vinyasa Class
08:45-09:30 - Mantra Chant, Pranayama, Mudra, Bandha, and Shatkriya Session
09:30-10:15 - Breakfast
10:30-11:30 - Talks-1 on Yoga Philosophy, Anatomy & Physiology and Teaching Methodology
11:45-13:00 - Theory and Practical Sessions on Meditation
13:00-14:00 - Lunch
1500-15:15 - Herbal Tea
1515-15:45 - Karma Yoga
1600-17:00 - Talks-2 on Yoga Philosophy, Anatomy & Physiology and Teaching Methodology
1715-18:45 - Traditional Hatha based Alignment and Adjustment session
19:00-20:00 - Dinner
20:00-22:00 - Self-Study in Silence
22:00 - Lights out
Included Excursions
Walk to the Holy Ganges for Outdoor Meditation. Rejuvenate your body, mind and spirit in blessed water of the river.
Attending Ganga Aarti (beautiful and uplifting fire ceremony) at the bank of the river.
Visiting ancient meditation cave to experience its uplifting vibes!
What's Included
3 vegetarian or sattvic meals
Accommodation
Yoga Materials
Weekend Excursions
How to Get There
By Plane
The nearest International Airport from Rishikesh is the Indira Gandhi International Airport, New Delhi. Upon landing at the airport, you can avail a direct cab to the school. Alternatively, you can also ask the school to arrange a pick-up.


By Train
The nearest railway station is in Haridwar (Uttrakhand). You can book a direct train to this town. Upon reaching the station, you can either avail a cab for the ashram or, ask the ashram to arrange a pick-up.
By Bus
There are ample numbers of direct bus routes from various cities in the Northern part of India to Rishikesh. Upon reaching the bus stand in Rishikesh, you can take a rickshaw to the school. Alternatively, you can ask the school to arrange a pick-up.
Cancellation Policy
The reservation requires a payment of 20% of the total price.


If the booking is cancelled one month (31 Days) prior to the start of the retreat/course you will get 90% refund of the booking amount.
If the booking is cancelled 30 to 15 Days prior to the start of retreat/course, you will get 50% refund of the booking amount.
No refund will be given if the retreat/course booking is cancelled less than 15 days prior to the start of the course. Although we can adjust the 50% of your paid amount to any other retreat/course you book with us in future.


The remaining amount shall be paid on arrival to the course/retreat location.
Teachers & Staff
Retreat center not mentioned any teacher or staff yet!
Similar Courses & Retreats