Rishikesh is the Adventure Capital of India in the foothills of Himalayas. Hindu gurus and sages have visited this place from ancient times to meditate and practice Yoga in peace. Apart from being "yoga capital of the world", it is also popular for fun-filled adventures sports activities and beautiful spots, ghats and temples. In this article, you can find the best things to do in Rishikesh on your visit
There are plenty of things to do in Rishikesh for all age groups. Here we have listed 15 most adventurous, exciting and fun things to do while you stay in Rishikesh.
Rishikesh is the Adventure Capital of India in the foothills of Himalayas. Hindu gurus and sages have visited this place from ancient times to meditate and practice Yoga in peace. Apart from being "yoga capital of the world", it is also popular for fun-filled adventures sports activities and beautiful spots, ghats and temples.
There are the most adventurous, exciting and fun things to do in Rishikesh while your stay .
1. River Rafting - The thrill you always wanted to experience
Rishikesh is one of the most famous places for river rafting in the world. Every year the local people and tourists come to Rishikesh between September to April to do River Rafting, it is one of the best adventure activities to try in Rishikesh. The thrill and adrenaline rush you will experience rafting in the holy water of Ganges directly coming from the Himalayan mountains is something to try. So go ahead and live your best moments of life !
3 types of rafting in Rishikesh are 9 km rafting which is done from Brahmpuri to Muni Ki Reti and will cost you around Rs. 600 (about US10 ), (1.5 -2 hours).

16 km rafting which is done from Shivpuri to nim beach and cost Rs. 1000 (about UD$20) (2.5 - 3 hours) and 26 km rafting which is done from Marine Drive to Nim Beach and cost Rs. 1500 ( US$30 ) per person (4-5 hours).
The best month for river rafting in Rishikesh is at the end of September to mid of June. For 2-3 months there is no river rafting due to bad weather and heavy rain which increases the level of river Ganga, so make sure you are at the right season in Rishikesh.
2. Bungee Jumping - Experience the free-fall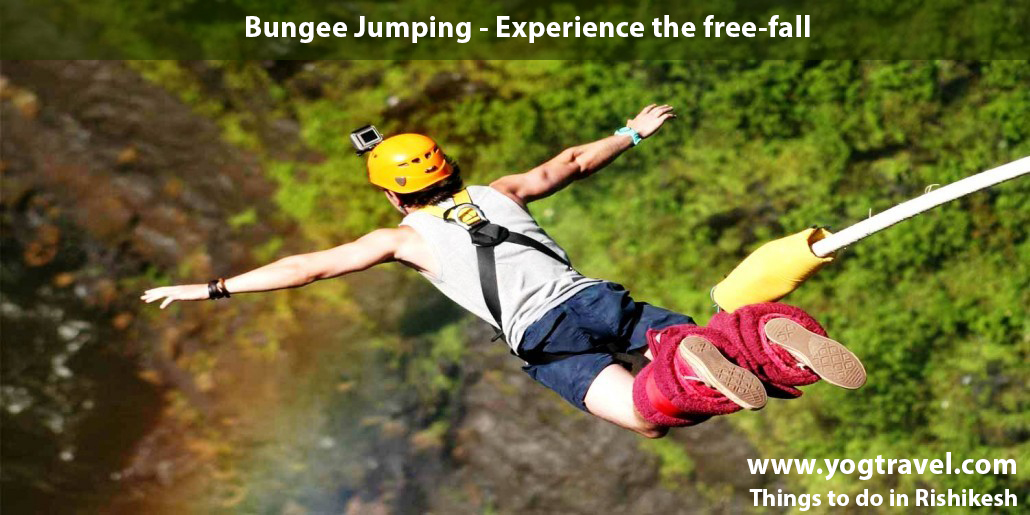 There are few places in India where you can actually bungee jump and Rishikesh is one of them, it has India's highest bungee jump with a height of 83 meters. Bungee Jumping in Rishikesh is my best extreme adventure sport without any doubt. It is an activity where a person climbs a tall structure of great height and then jump from it with an elastic cord attached to him. This activity is not for weak hearts for sure.
The Jump Masters in Rishikesh are well trained and take every precaution for your safety. You should have a basic level of fitness to perform this activity. If you suffer from a heart condition, high blood pressure, epilepsy, a neurological disorder, or if you are pregnant women, then you should avoid this adventure activity.
Cost for Bungee Jumping in 2020 is Rs. 3350 - Rs. 8000 (US$50 - US$115 )
3. Mountain Biking - Rush through the Himalayas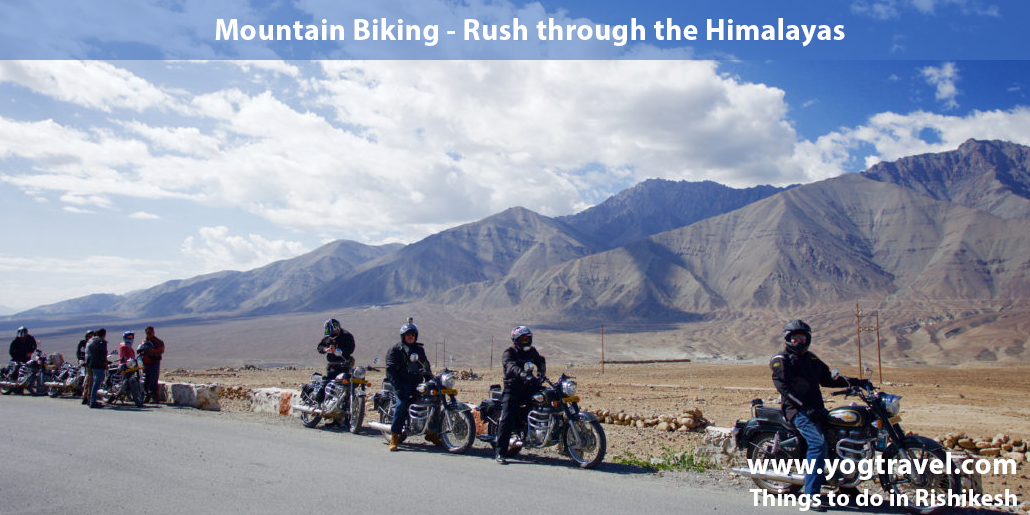 If you are a cycling enthusiast and looking to do some rough and tough activity in Rishikesh than Mountain Biking is your best shot. Mountain Biking is one of the toughest adventure sports in the world and it requires great stamina to paddle your way through the hills and rough terrain.
The mountain and beautiful landscape around Rishikesh is a good inspiration for mountain bikers. If you are looking for the beautiful view of Himalayan mountains plus roughest off roads than I will recommend you to try Mountain Biking in Rishikesh on your visit. All you need to do is rent a bicycle for Rs. 400-500 and you are all set to go, or you can join any Rishikesh cycling tours by a variety of tour operators which will cost you a minimum of Rs. 900-1000.
4. Flying Fox - Full of excitement & adventure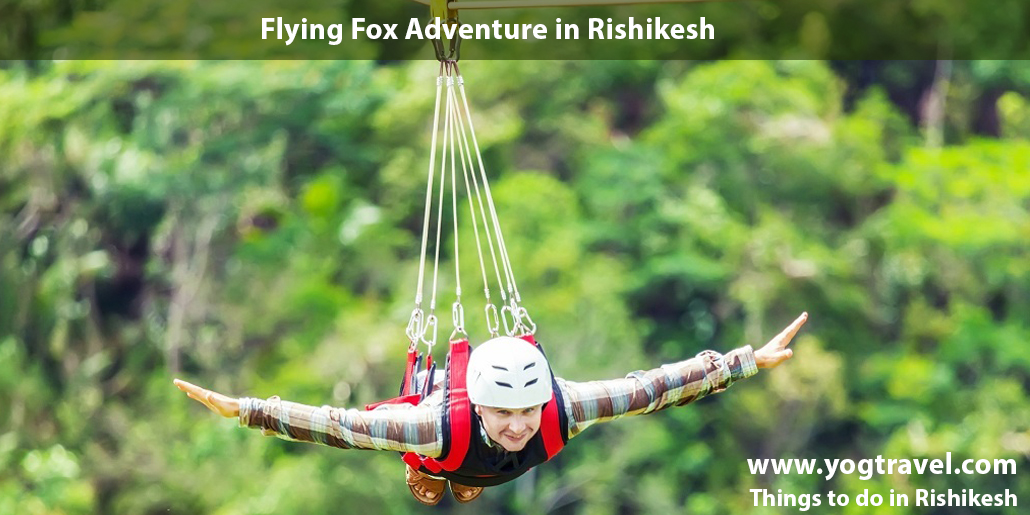 Flying Fox is a fun, thrill, adventurous and full of exciting sports activity, it is also known as Zip Line sometimes. In this activity, you will be connected to a thick wire at the higher end and will slide towards the lower end of the rope. It is usually done by three people but you can do it alone too by paying some extra charges. Overall a fun activity to do on your trip to Rishikesh.
One of the best places to try Flying Fox in Rishikesh is Flying Fox Rishikesh, located at Snow Leopard Adventures, NH 58, Shivpuri, Uttarakhand. The minimum age limit is 12 years and all the safety precautions are taken care of.
Cost of Flying Fox activity starts from Rs. 1000.
5. Yoga and Meditation - Many yoga schools and Teachers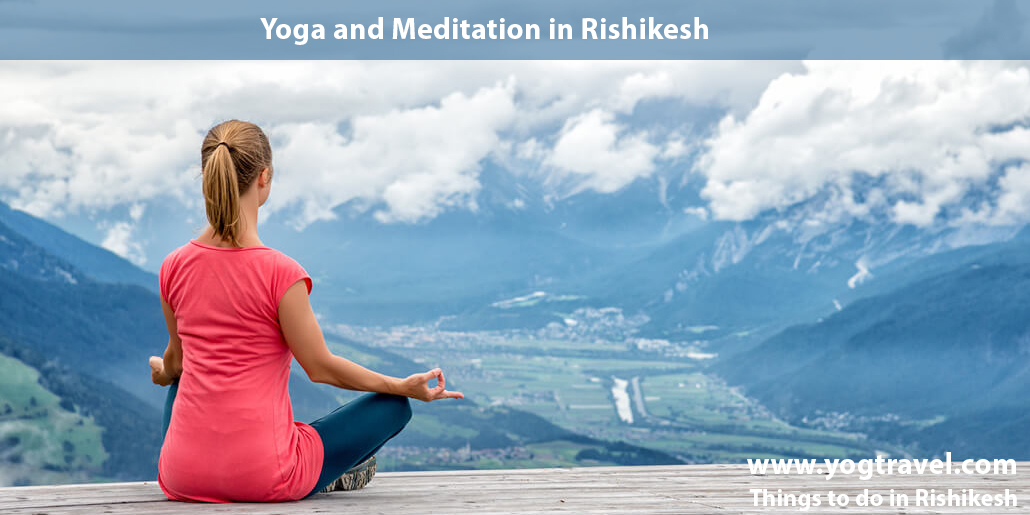 Rishikesh is an incredible place to learn and practice yoga. As Rishikesh is the yoga capital of India, it attracts plenty of tourists every year. Imagine doing yoga and meditation surrounded by these majestic Himalayan mountains, wonderful landscape, ancient temples and river Ganga with the fresh breeze flowing all day long. isn't it beautiful ?
If you are in Rishikesh to relax and reconnect with yourself than Yoga and meditation is the best activity for you as it will release your stress, anxiety and clear your mind. You can learn Yoga by going to any of the Yoga Studio/centres or ashrams.
Few of the best Yoga centers in Rishikesh are Rishikesh Yoga Teacher Training Center, 7 Chakras Yoga School, Arogya Yoga School, Tattvaa Yogashala, Atri Yoga Center and others which provides various yoga teacher training courses and retreats in Rishikesh
6. Camping And Bonfire - A peaceful night at the riverside of the Ganges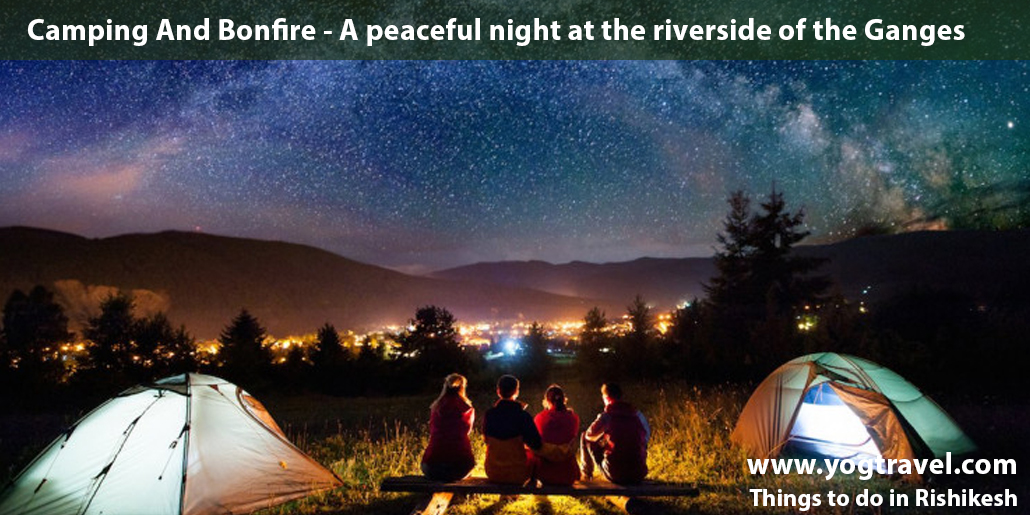 Camping around bonfire has always been a magical experience for me in Rishikesh. I believe everyone should try out camping, especially when you are in Rishikesh which has almost 30 camping spots. You can either campfire beside river Ganga or amidst jungles. There are many camping organizers in Rishikesh and they do their best to provide you with a wonderful experience.
Few of the best camping organizers in this town are 'Camping in Rishikesh', 'Riverside Camping in Rishikesh', 'Rafting camping adventure Rishikesh and 'Wondrous Camp - Luxury Camping in Rishikesh'.
Cost of Camping and bonfire in Rishikesh is Rs. 3000 - 4000 per person on double sharing.
7. Visit The Beatles Ashram - Know the legacy of Rishikesh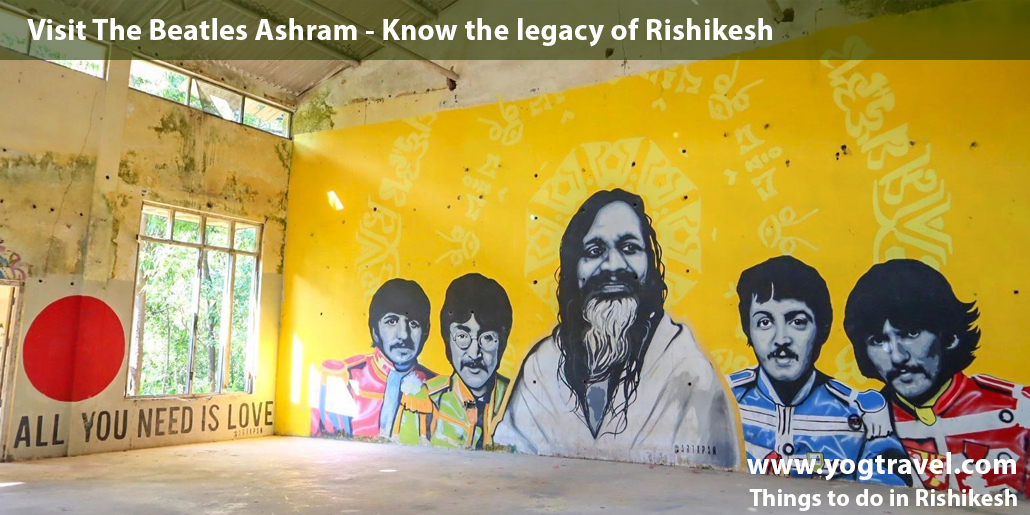 Chorasi kutiya, popularly known as Beatles Ashram, is a place to explore for all the Beatles fans staying or heading towards Rishikesh. English rock band the Beatles had a deep connection with Rishikesh and Guru Maharishi Mahesh Yogi, they came to Maharishi ji to learn Transcendental Meditation along with few other famous people. The place is now abandoned but you can visit the place and explore the paintings on the wall.
There are many songs written by Beatles in Rishikesh including the famous track Sexy Sadie" originally titled "Maharishi". This place is recommended for everyone.
8. Visit Lakshman Jhula - Hanging bridge of the haven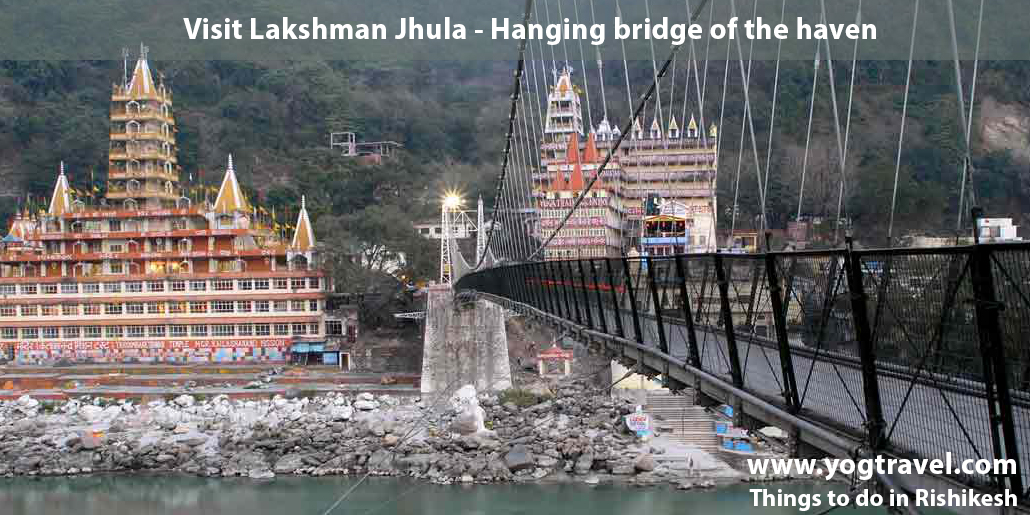 Lakshman Jhula is 284 feet long hanging rope bridge in Rishikesh. This is one of the hotspot and busiest places in Rishikesh as it connects two important parts of tapovan, Tehri Garhwal district to Jonk in Pauri Garhwal district. It is believed that Lord Lakshman of Ramayana (a Sanskrit epic) crossed the river Ganga along with Lord Ram and Lady Sita by making a bridge out of only two ropes.
To honour this act Lakshman Jhula is created at the very same spot. You can go on a walk or ride a bicycle, motorcycle on the bridge and enjoy the fresh wind of this holy place.
9. Kayaking - Explore the Holy Ganges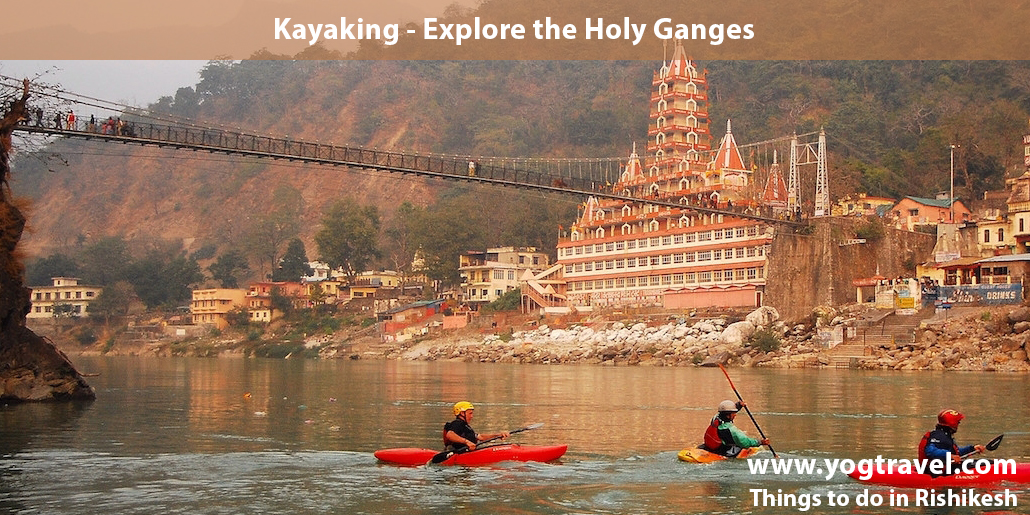 Kayaking has recently become very famous in Rishikesh and tourists are rushing from all corners of the world to do some adventurous kayaking trip in this town. The River Ganga is known for its challenging rapids, all you need to do is choose a rapid according to your kayaking skills and physical ability.
Best organizers of Kayaking activities in Rishikesh are Kayak School & Expeditions, TEAM 4 ADVENTURE, Expeditions India, Wobbler Water Adventure and White World Expeditions. An introductory session will be given to you on the basic techniques like paddling strokes before taking you out into the river Ganges.
10. Osho Ganga Dham Ashram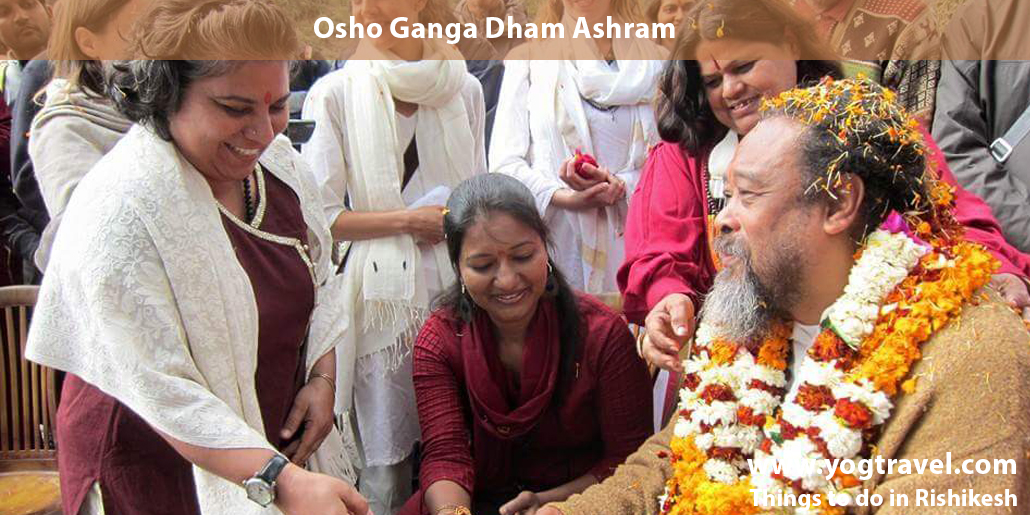 Osho Ganga Dham Ashram is located at the banks of the river Ganges at Janaki Cottage, Lease No-52, Badrinath road, Brahmpuri, Rishikesh. If you are looking for some self-awakening and inner peace you must definitely hit this beautiful Ashram. Activities in Ashram include Yoga and transcendental meditation. Osho built this Ashram with the aim of transcending the brain of people. The spiritual vibe of this ashram is really something to feel.
There are single and double bedrooms available for you including all vegetarian organic meals and a large hall for meditation overlooking the Ganga river.
11. Visit Neelkanth Mahadev Temple - Story of the savage world
Neelkanth Mahadev Temple is a Hindu pilgrimage temple located at a height of 1675 meters dedicated to Lord Shiva. This temple is a popular religious site of Rishikesh visited by devotees and tourists every year on a large scale. It is believed that this temple is the spot where Lord Shiva consumed the poison to save humanity.
A very beautiful temple surrounded by greenery, flowers and Himalayan mountain. All devotees take a dip into the nearby spring before entering the temple and bring all kinds of fruits, flowers, milk and coconut as an offering to Lord Shiva.
12. Beach Volleyball - Play from the heart
If you are relaxing in Rishikesh, you must head out with your friends and family to the beaches and banks of the river Ganges to enjoy this fun and exciting sports activity. Playing Volleyball in the sand with river Ganga flowing right next to you and mountains all around is an exquisite experience. You can either challenge the other team or learn the basic skills to play volleyball here.
The size of volleyball courts in RIshikesh are full size and maximum of 12 members can play volleyball in a match. There is no age limit in this sports activity which is amazing as your whole family can play and learn together.
Best of Beach Volleyball organizers in Rishikesh are Beach Camping In Rishikesh, Rishikesh River Rafting and Camp Ganga Riviera.
13. Paragliding In Rishikesh
Have You Ever Dreamt Of Flying? If yes then you should definitely try out this good adventurous sports activity. Imagine flying over the river Ganga, valleys, landscape and greenery of Rishikesh. Isn't it something to experience? Rishikesh is a very famous spot for Paragliding and you will create plenty of wonderful memories through this activity by exploring the beauty of Rishikesh from sky.
Best of Paragliding expertise in Rishikesh are Hawks' Fly Adventure (Paragliding in Rishikesh), G5 Adventure, Air Safari Rishikesh India and Rishikesh Holiday and Adventure Tour Package - River Rafting, Camping, Paragliding in Rishikesh.
14. Neelkanth Mahadev Temple - An undisputed faith
The Neelkanth Temple is dedicated to Lord Shiva and there are more than 500 thousand pilgrims who pay their homage every year. Neelkanth Mahadev is located around 20 miles (around 32 KM) from Rishikesh near Sariska National Park. You can book a cab or ride through the road to this holy place. Archaeologists claim that it was built around 6th to the 9th century CE.
A visit to Neelkanth Mahadev can be a very mind soothing and spiritual experience.
15. Ganga Arti - A lifetime spiritual experience
Ganga Aarti at evening also called Maha Aarti held at the bank of the Ganges in the surrounding of Parmarth Niketan ashram every evening from 6:00 PM to 7:00 PM can be a beautiful experience to be witnessed. The loud chantings of Ma Ganga's aarti and mantras will wash your soul with peace and pure happiness.
This experience is very hard to put into words and you will have to experience it yourself in order to understand the true greatness of the ma Ganga's aarti.
You can also watch live aarti streaming on Youtube Parmarth Niketan Ashram Channel around 6.00 PM to 7.00 PM.
16. Enjoying food
There are many cafes in Rishikesh where you can spend time with your family and friends during your visit. Alcohol is not allowed in restaurants because of holy place surrounding but you can taste the different kinds of food cousins like Chinese, Italian, Spanish, French and of course Indian. You can check out the list of top cafes in Rishikesh here
Conclusion
These things to do in Rishikesh will surely make your trip memorable but there is much more to do in Rishikesh and around. There are many temples, campsites, ashramas and a beautiful road to great the Himalayas which filled up with rich flora and fauna, jungles, wild animals, rivers, and natural falls. A trip to the Himalayas on the bike could be a great experience you have ever had.